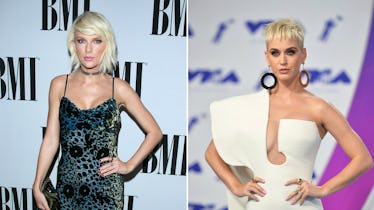 5 Times Celebs Acknowledged Drama With Other Celebs & Things Got Awkward AF
Mark Davis/Alberto E. Rodriguez/Getty Images Entertainment/Getty Images
Celebrities are just like us! They have family, friends, and, yep, they have enemies. Of course, we see feuds between celebrities in the tabloids and in gossip magazines, but it can be difficult to determine what's the truth and what's simply made up. Luckily for us, these 5 celebrities acknowledged drama with other celebs, meaning that there was no wondering whether or not it was real because it came straight from the horse's mouth. So, grab some popcorn, sit back on your couch, and get ready because these feuds are juicy as hell.
1. Taylor Swift and Joe Jonas
Way back when in 2008, Taylor Swift and Joe Jonas were an item. Cute, right? Except the way things ended were decidedly less cute and much more cringeworthy, because apparently, Joe Jonas broke up with Taylor Swift over a phone call that lasted less than half a minute.
Ouch.
When she went on The Ellen Show to promote her album, Fearless, she said that one song in particular was written about Joe Jonas, but that he was no longer in her life. She said,
You know what, when I find that person who is right for me, he'll be wonderful and when I look at that person ... I'm not even going to be able to remember that boy who broke up with me over the phone in 25 seconds when I was 18.
The look on Ellen's face after Taylor dished on the way Joe Jonas broke up with her is actually priceless, and it just goes to show that no matter how famous you may get, exes will still always somehow stir up some drama.
2. Katy Perry and Taylor Swift
Again, Taylor? Instead of stirring the pot with an ex-boyfriend, this time, it's all about having beef with successful pop artist Katy Perry. Back in 2014, Swift revealed that Katy Perry was the inspiration behind "Bad Blood," saying,
It had to do with business ... [This person] basically tried to sabotage an entire arena tour. She tried to hire a bunch of people out from under me … So now I have to avoid her. It's awkward, and I don't like it.
Katy Perry fired back with a tweet, telling people to beware of the "Regina George" dressed "in sheep's clothing":
Perry also appeared on Carpool Karaoke and spoke about her ~drama~ with Swift, saying:
Honestly, it's really like she started it and it's time for her to finish it ... I tried to talk to [Taylor] about it [the break dancers] … she wouldn't speak to me. I do the right thing anytime that it feels like a fumble. It was a full shut-down and then she writes a song about me and I'm like, 'OK, cool cool cool. That's how you wanna deal with it?'
Many fans think that Swift's song "Look What You Made Me Do" also has references toward her beef with Katy Perry, meaning that these two probably aren't going to kiss and make up any time soon.
3. Amber Rose and Kylie Jenner
Although she now has a child with Travis Scott, Kylie Jenner used to date Tyga, which really got on Amber Rose's nerves. (FYI, Amber Rose and Blac Chyna, the mother of Tyga's son, are BFFs.) Rose went on-air with Power 105.1 and said some fightin' words toward Kylie:
Kylie's a baby. She needs to go to bed at 7 o'clock and relax. It's ridiculous. Tyga should be ashamed of himself. That's how I feel, for sure. He has a beautiful woman and a baby that he left for a 16-year-old who just turned 17.
Khloé Kardashian took her sister's side and asked Amber to "stop talking" about her and her family on Twitter.
As if it wasn't bad enough that Kylie and Amber exchanged words, now Khloé is in on it too, making this a three-way celebrity feud. Lord.
4. Kim Kardashian and Chloë Grace Moretz
I know, I know. How many more Kardashians are going to make it on this list?
The drama started between Kim K and Chloë when, back in 2016, Kim posted a naked selfie on Instagram.
While she looked fantastic, Chloë responded to the photo on Twitter, taking offense to the image. She wrote,
There's a huge difference in respecting the platform that you're given as a celebrity and 'slut shaming,' something I never have done and — would never do.
Not one to be outdone, Kardashian clapped back by tweeting, "Let's all welcome @ChloeGMoretz to twitter, since no one knows who she is."
Though Moretz didn't respond to Kardashian's tweet, she did tell Glamour magazine that she found the photo "a little inappropriate for young women to see."
Looks like both ladies are sipping on their tea, respectively.
5. Camila Cabello and Fifth Harmony
Sometimes it's actions, and not necessarily words, that show drama. That was certainly the case when Fifth Harmony performed at the 2017 VMAs after Camila Cabello left the group, leaving the other four women less-than pleased. During the beginning of their VMA performance, it seems as though five people were up on the stage, but once the music began, one "person" was thrown backwards off the stage, while the other four members began to perform.
While the group didn't say that the fifth member signified Cabello, they didn't really need to. It was kind of brutal, and Cabello got the message loud and clear.
In a New York Times interview, Cabello said that Fifth Harmony's VMA dig "definitely hurt [her] feelings," adding that she "wasn't expecting it." She said, "I wasn't prepared for it — especially because at that point I'd moved on from it."
That level of shade was intense, and I definitely feel for Cabello. But before you start to feel too sorry for her, know that she's absolutely crushing life with a solo singing career, so she's *probably* not sitting at home each night contemplating the drama between her and her former bandmates.
There you have it, folks. If there's one thing you should know, it's that when it comes to being a celebrity, you need to know how to navigate through the ~drama~ of it all.
I mean, you could also follow advice from the quote, "If you don't have anything nice to say, don't say anything at all," but where's the fun in that?