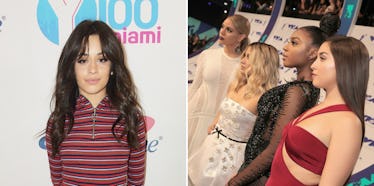 Camila Cabello Responds To That Fifth Harmony Diss & She's Definitely Not Happy
Gustavo Caballero/Getty Images for iHeartMedia // Christopher Polk/Getty Images
Anyone who's ever been on the outs with their buds knows that friendship drama can be the worst. After all, there's no one who can hurt you more than your besties. And if the drama is playing out on a public stage, it's probably so, so much worse. For proof, see Camila Cabello's response to Fifth Harmony's VMAs diss. Honestly, it's giving me major drama flashbacks.
In a New York Times interview published on Jan. 11, Cabello reflected on how she felt after her former group, Fifth Harmony, very publicly dissed her at the VMAs — and the emotions are real. "It definitely hurt my feelings," she said. She recounted that she was watching the show at home with her mother, and when she saw the shady moment, she was shocked. "I wasn't expecting it, I wasn't prepared for it — especially because at that point I'd moved on from it," she said. "I was just like, 'What? Why?'" Aw, Camila. It's OK, girl. We all understand.
If this past August's VMAs seem like forever ago, a quick refresher on the diss heard round the world. During Fifth Harmony's performance of their songs "Down" and "Angel" at the 2017 MTV Video Music Awards on Aug. 27, the group unexpectedly brought five members on stage — but as the music started, one of them was unceremoniously thrown backwards off the stage, disappearing as the rest of the group stepped forward to perform.
Shady AF, if you ask me.
And I'm not alone. Literally everyone saw it as a diss to Cabello, who had left the group to pursue a solo career in December of 2016.
Her departure had caused major drama, with finger pointing all around and arguments about how Cabello had notified her former groupmates. "We even went as far as group counseling which she did not show up to," the group said in a statement posted to Twitter after Cabello announced that she was leaving the group. The letter, signed by each of the remaining members, denied that Cabello and the group had discussed her departure. "So no, after months of rejection from her and her team, these supposed lengthy conversations in fact never happened, although we pleaded." Drama.
So, yeah. People called shade.
Adding to the drama that night? Fifth Harmony dodged a question about Cabello on the red carpet. The group had been nominated for Best Choreography for their video for "Down," and on the red carpet, MTV co-host Charlamagne Tha God asked about how the group would handle it if they won that night.
"Now if y'all win the choreography award," he asked, "do you give one to the member who's no longer in the group?"
Normani Kordei answered the question by avoiding referring to Cabello at all: "If we win for best choreography, we'll actually give it to our choreographer. He deserves it," she said. (It ended up being a moot point, as the award eventually went to Kanye West for "Fade.")
Of course, Cabello's been on the up and up since then. She's got her debut solo album, called Camila, coming out on Jan. 12. And even besides that, she's seen major success: her single "Havana" is No. 2 on the Billboard Hot 100 and has been leading the Pop Songs chart for the past seven weeks, the first female solo artist to pull that off in five years. (The last one was Taylor Swift, who hit that mark with "I Knew You Were Trouble" back in 2013.)
But hey, even success doesn't insulate you from drama. Good luck with everything, Camila. I don't see this shadiness ending anytime soon.