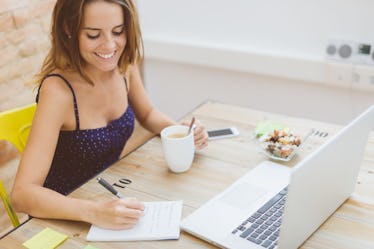 These 4 Zodiac Signs Are Known For Having Type-A Personalities, So Don't Underestimate Them
You know the type: They're unstoppable, obsessed with perfection, eager to be the best, and willing conquer their heart's desires with everything they've got. Some call them ruthless, others call them admirable. While they inspire many to go after their wildest dreams, they also instill fear in all who bear witness to their relentlessness. Believe it or not, there are even certain zodiac signs who are known for having Type A personalities: Aries, Leo, Virgo, And Capricorn.
As you'd expect, they're exactly the opposite of a Type B personality, who tends to be more patient, laid-back, down-to-earth, and accepting of whatever happens to them in life. When a Type B is met with failure, they take it in stride rather than allow it to affect their self-esteem. They tend to be a lot less stressed out (perhaps even more content) than those who fall under Type A.
However, while Type Bs enjoy their smooth sailing, Type As are out there working hard to reach an outward image of success. They're the ones earning gold medals, giving revolutionary speeches, and increasing their wealth. All over the world, Type As are being talked about. They can be so fierce and unyielding in their commitment to absolute perfection that the rest of us wish they would just calm down for once. But no, a Type A has no time for calm.
Aries: Aggressively Competitive
There's no zodiac sign more energized and motivated to fight for their dreams than an Aries. They don't care how ridiculous or desperate they look; an Aries will get down and dirty in order to win. In their opinion, being second best is never an option. Their boldness and fearlessness serves them well in their desire to be the best in everything, no matter what it is.
You'd be able to spot this Type A as the athlete running faster than anyone else on their team, the competitor who does something unheard of to ensure they win gold, or the person taking a board game way too seriously.
Leo: Desires Fame And Popularity
A Leo wants all eyes on them. To be the most adored and admired person in all the land would be their dream come true. However, they don't just fantasize about fame and popularity. They make it happen. They're never afraid of putting themselves out there and being the center of attention. In fact, being on stage is when they feel most alive. If they had it their way, they'd be performing as often as possible.
This Type A takes the form of an actress giving a speech after receiving her Academy Award, a socialite strutting their stuff at the MET Gala, or that person who literally never stops talking because they love the sound of their own voice.
Virgo: Serious Perfectionists
For a Virgo, everything must be in order. They have a vision in mind and if there's even one flaw in the manifestation of that vision, they could have a total meltdown. The bare minimum of their expectations is complete and absolute perfection; nothing less. They're willing to work extra hours, plan extremely far ahead, and practice until they bleed. In their eyes, no amount of work is ever too much work.
Type As of this kind appear as artists with meticulous attention to detail, engineers who construct immaculate machines, dancers with perfect form, and people who literally will spend hours bullet journaling while everyone else is out having fun.
Capricorn: Highly Ambitious
When a Capricorn has their mind set on a goal, nothing can sway them from achieving it. They will set into motion careful and strategic plans that allow their dreams to unfold. They don't care how long it takes. They don't care how difficult it may be or how low their odds are either. A Capricorn is capable of anything simply because they will literally never give up, not even when it seems like the easier thing to do.
This Type A looks like the first female president of the United States of America, a homeless person becoming the wealthiest man in the country, and that person who needs to post a photo of themselves on Instagram literally every time they go to the gym.