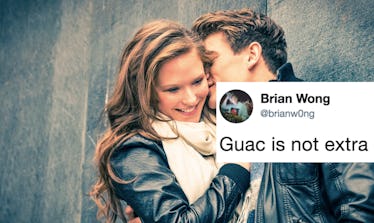 This Meme Asks For 4 Words Every Girl Wants To Hear & Twitter Delivered
Let's be real, sometimes it is just too easy to waste the better part of a day getting onboard a meme train without knowing when to exit the rabbit hole that is social media. While there's certainly a fair share of gems that'll leave you chuckling appreciatively and tagging friends throughout the most boring tasks of your work day, there's also the flip side: the viral memes that get, well, a little weird. Enter the meme du jour, which has been attempting to dissect what women really want to hear by crowdsourcing input from Twitter users with a little too much time on their hands. Unsurprisingly, these "Four Words That Every Girl Wants Whispered In Her Ear" memes blew up overnight, and they are completely weird and hilarious AF.
Now, the actual image that started it all is a pretty cute stock image of a young woman looking totally smitten as her boyfriend nuzzles her ear and appears to whisper something to her. She's basically radiating joy, which naturally leads one to ask, "What is he saying to her to make her look so blissfully happy?" The description on Shutterstock, "Handsome man whispers soft kisses in beautiful woman ear," doesn't offer much input. I could totally see this being a sort of trendy #relationshipgoals post back in the day on Tumblr or Twitter where thousands of young tweens congregated to talk about budding love. But, as we all know, social media is now a whole other animal with all sorts of glorious pop culture references abound. Believe it or not, the resurfaced image is coming back with its fair share of relationship roasts.
So, does Twitter know what women want to hear? Well, sort of, I guess. A few users are hitting it out of the park with their food and wine references. After all, what says "love" quite like some guac on the house or mountains of chicken nuggets brought to your doorstep?
I don't know about you, but I could definitely get behind some tacos and bae.
One of my favorite takes on the phrase is a combination with last month's vival Reddit meme from the 2009 sketch, Tim and Eric Awesome Show, Great Job. In the mock commercial, the characters Tim and Eric are trying to convince Jim to claim the free home. The memorable tag line, "It's free real estate," is completely genius in this case.
While there's a fair share of tweets alluding to laundry, clean dishes, and the like, what shows that your man cares more than his embracing everything about you, questionable footwear notwithstanding?
And because it's Twitter and we're living in the age of modern dating, after all, several users brought out the snark as they instead shared what most women would definitely not want to hear. Yikes.
As with any meme, there were also quite a few weird and totally random Twitter entries that had me saying, "LOL, what?" as I scrolled through.
So is the "Four Words Every Girl Wants Whispered In Her Ear" meme here to stay? While the stock image got popular again over night with a whole new round of submissions on Twitter, it doesn't quite have the staying power of the distracted boyfriend meme from last August, or the hilarious background behind the texting Super Bowl selfie kid. Will you stop seeing it all over your social media feed soon? Probably. Does that mean you can't enjoy hours of entertainment and silly commentary while the craze lasts? Absolutely not. In the meantime, get to meme-ing!