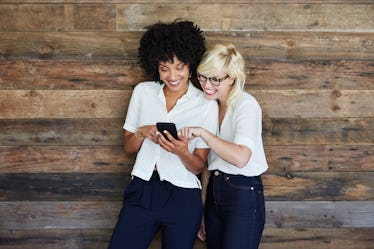 9 Memes That Perfectly Define Your Relationship With Your Work Wife
Having a best friend at work, aka your work wife, is truly the only thing you need. They are better than coffee, because when the caffeine is not doing it for you, your bestie will always help you through the long days. You're constantly going to her to just vent and laugh whenever you have a spare moment of time. Lunch is when you both really just get to be yourselves, but when you're forced to go back to your desks to work, you chat with your bestie online with memes to send to your work wife.
Only those fortunate people who have work wives totally understand these nine memes best, because they perfectly describe your relationship together. Tell your bosses to not worry; when you're messaging back and forth, you're still totally getting work done. You're just also keeping your bestie in the loop of what's going on in your neck of the office.
No number of cubicles can separate you two, so send her one of these memes to let her know you're thinking of her. She will totally get a kick out of it, and hopefully the hours go by quickly so you both can finally reconnect over happy hour wings and drinks soon.