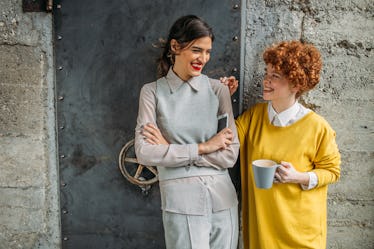 7 Fun Things To Do With Your Work Wife Instead Of Happy Hour
Oh no, you've found yourself at happy hour once again. The go-to after work hang has essentially become that pop song you hear on the radio all the time. At first, it was super fun to dance to, and you couldn't wait to hear it again. But now, you're so over it. It's become too monotonous, and you're looking for the next big thing. You and your bestie at work — AKA your work wife — are looking to change things up after office hours, and luckily there are tons of things to do with your work wife instead of happy hour.
You're probably sick and tired of seeing other people from work at your solo friend hang anyway, so think outside the happy hour menu. Instead, you could do something active since you've been sitting at a desk all day anyway. Or, you could go somewhere to relax, because you had back-to-back meetings, and definitely deserve to treat yourselves. Either way, when you feel like you're stuck in a rut of going to the same place after work, here are seven things you and your work wife can do instead that'll finally put the happy back in happy hour.