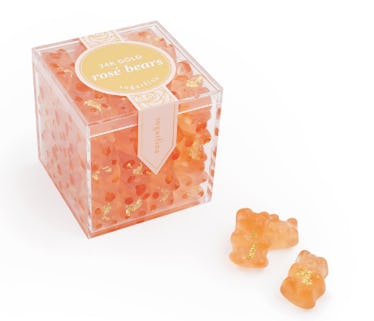 These Rosé Gummy Bears Are Covered In Edible Gold & They're Too Pretty To Eat
As a lover of all things candy, choosing a favorite would be practically impossible. But I have to say, gummy bears are definitely at the top of my list. Over the past 24 years, I've become quite accustomed to those giant one dollar bags from CVS with the basic assorted flavors, but I'm always willing to step up my gummy bear game. Just in time for National Rosé Day, the gummy bear gods have blessed us with these 24-Karat Gold Rosé Gummy Bears by Sugarfina. They might honesty be too beautiful to eat, but I'm willing to take on the challenge.
You've most likely heard about Sugarfina, a luxury candy shop known for its embellished gummy candies and other fancy sweets. Some of their gummies are infused with different kinds of wine or liquor, but they're all aesthetically pleasing. However, it looks like their latest innovation happens to have both wine and gold (yes, you heard that correctly), and I could go for, like, a lifetime supply of them right about now.
I'd imagine that gold rosé-flavored gummies taste pretty marvelous, because according to the website, each gummy is infused with rosé wine from Provence. As Provence rosé generally boasts refreshing fruity and flowery flavors, I can see these pairing perfectly with your happy hour glass of rosé alongside a plate of cheese and crackers, or even paired with rosé-infused ice cream. You can buy a cube of them online for only $24.
The draw to Sugarfina's latest creation doesn't stop short at its taste, because they look absolutely stunning. Based on the photo from the Sugarfina website, rosé gummy bears come in a glorious millennial pink, and each is gilded with edible 24-karat gold leaf.
According to an email from the company, Sugarfina is offering a special National Rosé Day deal between June 9 and June 10. If you end up spending $25 online, you'll receive a free But First, Rosé Roses Candy Cube by using the code ROSETHISWAY. It's a pretty solid deal, so make sure to take advantage of it before it ends.
After National Rosé Day comes to a sad and unwanted end, you might find yourself craving a change of pace in terms of beverages. Maybe, beer? Well, Sugarfina has, in fact, dabbled in making beer-flavored gummies, and they're so cute. In April 2018, the luxury candy shop debuted beer-flavored Corona Light gummies called "But First, Cerveza." In addition to the fact that they taste like a refreshing bottle of Corona, they actually look like mini beer bottles. The company initially said that these beer-infused beauties were limited edition, but you can still get them online, so I highly recommend doing so before they're potentially gone. For only $7.50 a box, they're well-worth the money.
If you're all gummied-out, though, the candy company also sells vodka-infused chocolate. The chocolate, called Tito's Vodka Cordial, is basically a sip of Tito's five percent ABV, which is covered in a rich, dark chocolate coating. In this collection, they also debuted a Tito's American Mule Bear, which is a Moscow Mule-flavored gummy bear. It's also infused with Tito's Vodka, as well as ginger beer. Although they're non-alcoholic, you must be 21 years old to buy them off Sugarfina's website. I'm definitely planning on snacking on some of these before my next night out, that's for sure.
If you know me at all, you'd know that I'm always down to try rosé-flavored anything. And although gold rosé gummy bears are a lot fancier than the CVS bears I'm used to snacking on, I'm 100 percent down to try these out. Between their pink and gold aesthetic and their flowery, fruity taste, there's nothing I'd rather nibble amidst current National Rosé Day celebrations.