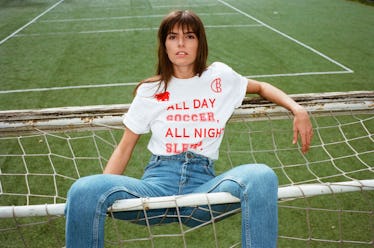 Designers Created World Cup-Inspired Shirts For Their Home Teams & They Are Goals AF
YOOX
Seeing as I've been living in Mexico City this month, I've been surrounded by tons of people (read: an entire city) who agree that the 2018 World Cup is a very, very big deal. (Did you read about how fans set off earthquake sensors here in Mexico when their team beat Germany?!) I am not a soccer (or futbol) fan whatsoever yet being in a country where the sport is basically a religion has made the epic tournament a whole lot more fun and interesting to pay attention to. I've actually watched two full games on television this year, which is a new record for me. The most surprising part? I enjoyed it. Viva Mexico! But thanks to a very special soccer-centric release that has completely piqued my interest, this World Cup would have drawn me in even if I was at home in the United States.
Online retailer YOOX and sports magazine SEPP tapped designers and brands from 14 of the 32 countries participating in the World Cup to create a limited-edition capsule collection of tees and sweatshirts. Inspired by some aspect of their home country, from their flag to their culture, the designers' creations are a super unique and fashion-forward way to show your team some love. If you're like me and you don't necessarily love wearing sports jerseys around, these tees and sweatshirts might be for you.
British designer Vivienne Westwood's creation is one of my personal favorites, which should come as no surprise seeing as she's the ultimate purveyor of conscious and edgy cool and has been since before I can remember. The word "PUNK" holds court smack dab in the center of the design and is surrounded by doodled stars, a moon, and the words "Mirror the World." As reported by Refinery 29, the design references her passion for sustainability and green living, while Westwood herself explained that "Mirror the World is about saving Venice," continuing, "the problem there is one of repair but also climate change."
Brazil's design came from Isolda, who incorporated the starry globe portion of the country's flag into the design, which also features a blue bird and cashew apples.
Marques'Almeida, a much-loved brand among fearless fashion enthusiasts, took charge for the Portuguese tee design, which features what look to be continents colored in with red and green stripes, which mimic the country's flag.
The tee for Japan is easy to spot thanks to the giant red dot at its center, which mimic's the Japanese flag. Menswear brand Kolor was tapped to execute the design, which is graphic, bold, and minimalistic.
This is just a small sampling of the amazing creations that were dreamed up for the collaboration. Y/ Project was enlisted to design for Belgium, Koché for France, Walk of Shame and Alexander Terekhov for Russia (the host country gets two); Delpozo for Spain—the list goes on. To see every tee within the collection head to YOOX's site.
Even if you don't like soccer the designs are so good that you're probably lusting after at least one of them. But what makes them even cooler is the fact that 100 percent of the proceeds from the sale of the collection will be donated to benefit Stars for Children, a foundation founded by Russian football player Aleksandr Kerzhakov that provides support and introduces disadvantaged children to the world of sports.
Tees retail for $96 each, while are sweatshirts are $145—not bad prices since you're getting a limited-edition piece by a high-brow designer. Leave it to fashion to become more involved than ever in the World Cup.