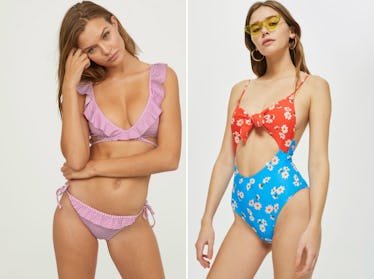 This Year's Hottest Swimsuit Trends Will Make Your Vacation 'Grams So Fire
H&M; Topshop
If you've got a spring break getaway planned or are going on a tropical vacation simply to see the sun for the first time in three months, chances are, you're in the market for a new bikini. Don't settle for a plain, run-of-the-mill option, though. The below 2018 swimsuit trends are guaranteed to not only have you looking cool AF, but they will also make sure that all of your beach and pool shots pop on your Instagram. Because let's be real, we all love to induce a little envy when it comes to travel 'grams, right?
Do you remember when Kendall Jenner posted a photo of herself in a pink swimsuit perched atop an inflatable flamingo pool floaty last May? The photo absolutely blew up and was covered on pretty much every major fashion publication around. Jenner looked impossibly glam and like total #goals thanks, in part, to her supremely cute ruffled two-piece — I wouldn't be surprised if brands started selling similar styles like hotcakes shortly after.
While I am all about owning a staple black bikini, there are so many good and truly unique swimwear styles on the market right now (like Jenner's) that buying something so minimal seems just plain wrong. Vacation should be all about indulging in things that make you happy, and what's happier than flirty cutouts, playful ruffles, bright prints, and quippy phrases? All of those things also happen to make what would otherwise be a good travel snap great, so it's really a win-win.
Shop all of the cutest trends below — and don't forget to find a pool floaty to match.
Split Decision
Swimsuits with a "split" bodice are HUGE this season. The trend is literally everywhere, and for good reason. It's kind of like wearing a bikini except you don't have to fuss around with side-tie bottoms or your top slipping off when a wave comes. I love this suit in particular thanks to its tie detail, split color way, and floral pattern.
To The Wire
OK, OK, I know I said no black swimsuits, but this one has a neckline that's too cool to leave out! Structured wire gives the bikini top a cool "V" shape to it that looks super angular and architectural — design elements not usually used to describe swimwear.
Fashion Statement
One pieces featuring cute messages or words continue to live on! This one is especially cute thanks to its nautical color theme and Italian greeting. Pair it with a wide-brimmed hat and some chic shades and you've got a belissima 'gram in the making,
Block Party
Rainbow stripes and color blocking are another huge trend this season, which makes sense seeing as their vibrant color palettes are made for standing out. This specific suit just makes me happy when I look at it and is a sartorial mood boost.
Ruff Edges
You can never go wrong with small, flirty ruffles, especially when they're used on swimsuits. This top style, which features a deep V-neck and cap sleeves, is getting its own spin from pretty much every swim retailer around. It's a slightly sweeter take on the typical bikini that packs a unique punch.
Retro-Grade
There's something about a '60s-inspired swimsuit that renders them impossible of going out of style. But thanks to its modern cherry blossom print, this one, which features the classic halter and gathered bust silhouette, has gotten a modern upgrade.
So Hip
If this suit reminds you of an '80s Jazzercise leotard, you're not alone. swimsuits that sit above the hip bone have been having a major resurgence as of late, and I will say it brings the focus on your gorgeous legs. I love this pink maillot for its cool side ties and sporty texture.
Mesh Well
Mesh and netting are also back with a bang, and this bikini conjures images of a punkish mermaids. I love the deep V neckline-slash-halter top combo.
Get Waisted
As a daily wearer of mom jeans, this high-waisted bikini is a dream. It has a decidedly retro feel to it and dreamy floral pattern, and I'd imagine it's a lot comfier than any string bikini out there. Sold!
I'll Have the Scallops
2017 was the year of the scalloped bikini and it looks like 2018 might be following suit. The wavy detailing gives any swimwear — no matter how plain otherwise — a cute pop...just make sure you apply sunscreen liberally.