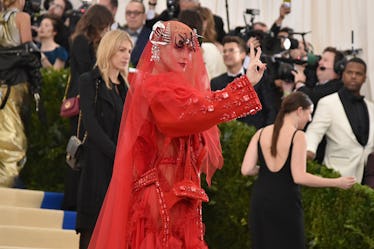 The Memes From The Met Gala Are Already Coming In Hot & I Can't Stop Laughing
Mike Coppola/Getty Images Entertainment/Getty Images
Let's be real: when Met Gala season rolls around, we're all in it for the outfits. But actually, some of the best things about the event are the reactions from people at home, whether it's a wonky tweet or a hilarious meme. This year is clearly no different, and if you've watched any bit of the show, the 2018 Met Gala memes are more than likely everything you're thinking.
The Met Gala annually always takes place at the Metropolitan Museum of Art in New York City on the first Monday in May. This year, that happens to fall on May 7. The theme is also "Heavenly Bodies: Fashion and the Catholic Imagination," so you'd probably already think that celebrities would show up wearing fluffy white, communion-inspired gowns, nun-inspired accessories, or bedazzled cross necklaces. And they did: Rita Ora wore an over-the-top, radiant headpiece. YouTube star Liza Koshy wore a sheer black dress with an over-sized white collar, channeling a nun habit. And Olivia Munn wore a glimmering gold dress with a coordinating headpiece.
In addition to all of the extravagant, mind-blowing looks that celebrities rock at the Met Gala, things can also get weird AF, too. For example, at the 2017 event, Jaden Smith hit the red carpet sporting his severed dreadlocks as an accessory. And, no matter what year it is, you can always count on Katy Perry to pull up in larger-than-life accessories and kitschy outfits. (This year, she was literally wearing angel wings.) I don't know about you, but I often think that the biggest celebrities would be exempt from getting roasted due to their elite status. However, social media users didn't spare anybody, roasting Perry, Migos and more. On behalf of Rihanna and SZA, I just wanna say: I'm so, so sorry.
One person joked that they were ignoring college finals for the gala's red carpet.
Another made this hilarious joke about the outfit inspo:
Twitter did not pass up an opportunity to troll Taylor Swift:
Aside from all of the witty reactions, the night is guaranteed be one to remember, anyways: Rihanna, Amal Clooney, and Donatella Versace (all stunning fashion muses) are co-hosting the event alongside Anna Wintour. It's a lineup that's extremely exciting given the fact that Rihanna — the official, yet unofficial QUEEN of Met Gala looks — always shows up dressed to kill, sporting dazzling, fresh-off-the-runway looks. This year, unsurprisingly, was no different.
And she clearly stole the show at the 2018 gala, too. She channeled the Pope himself, and I really have no words.
Shante, you stay!
Though there are some celebrities who slayed their looks at the Met Gala, others had their reservations about the event — mainly because of the theme's twist on Catholicism.
However, Andrew Bolton, the head curator of the museum's Art's Costume Institute, said with so many designers who are from Catholic backgrounds (such as Riccardo Tisci or Cristobel Balenciaga), the theme is much deeper than a careless attempt at being provocative or risky. In November 2017, Bolton told The New York Times:
"We know it could be controversial for right wing or conservative Catholics and for liberal Catholics." But the show will focus "on a shared hypothesis about what we call the Catholic imagination and the way it has engaged artists and designers and shaped their approach to creativity, as opposed to any kind of theology or sociology."
Greg Burke, Director of the Holy See Press Office, echoed Bolton's comments, saying:
The Roman Catholic Church has been producing and promoting beautiful works of art for centuries. Most people have experienced that through religious paintings and architecture. This is another way of sharing some of that beauty that rarely gets seen.
The looks that I've seen on the red carpet, regardless of a few misses, were done in completely tasteful manners. I can't wait to see what looks attendees pull off next year — and all the memes that'll come with that.