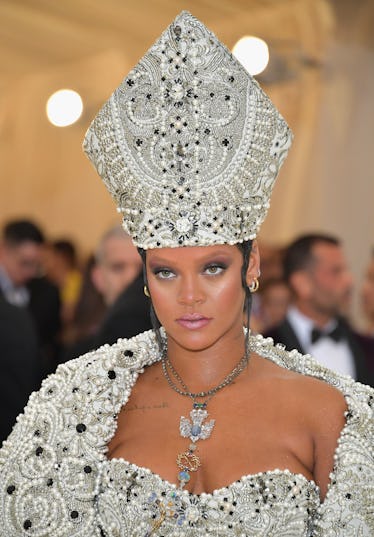 The Met Gala Is Finally Here & Twitter Can't Handle All Of The Fashion
Neilson Barnard/Getty Images Entertainment/Getty Images
It's that time of year again, folks. The Met Gala is known as an event full of fun, fashion, and notable figures. As a spectator, I look forward to this shindig every year, and with "Sunday Best" as this year's guiding principle, these tweets about the 2018 Met Gala prove that everyone is super nervous about what their favorite stars are going to show up wearing.
Perhaps the most thrilling part of the gala is seeing all the celebrities gathered together. There's only a few times during the year when we get to see film, fashion, and music stars rubbing shoulders with one another, with all the glamour and drama that entails. Celebrities turn it out for "fashion prom," wearing the coolest, most dramatic, and even downright weird outfits. The event is actually a fundraiser for the Metropolitan Museum of Art's Costume Institute in New York City — and it must raise quite a lot, because tickets are $30,000 a pop according to The New York Times, with a table running you a cool $275,000. So with that kind of cash being tossed around, is it any wonder that celebrities go all out when it comes to making the event memorable?
Because oh, remember it we will. If these tweets are anything to go by, people are having all kinds of feels about their fave celebs sticking with "Heavenly Bodies: Fashion and the Catholic Imagination."
But, like some people just can't wait to judge, judge, judge!
Heading into the night, there was one celebrity in particular who everyone was eager to see. Despite being known for her unconventional fashion choices, Lady Gaga had to miss last year's Met Gala since she was in the middle of shooting romantic musical film A Star Is Born. However, rumor had it that the "Born This Way" singer would be attending this year and I have to say that I'm thinking the "Heavenly Bodies: Fashion and the Catholic Imagination" theme will be the absolutely perfect opportunity for her to strut her stuff.
Gaga — who was actually raised Catholic — is known for using heavily Catholic imagery and references in her work, and even donned a nun ensemble in her 2010 music video for single "Alejandro" (the music video actually received a lot of criticism from the Catholic League). So of course people will be on edge to see what she might wear.
Sadly, Gaga did not make an appearance at the 2018 Met Gala. But she did post a video of "Judas" in honor of the night's theme. She wrote,
In honor of the Met Gala and its theme I'll post the "Judas" video. Here we explored Christianity through fashion some made in Haus, young designers as well as archive Christian Lacroix. ( the paper wedding dress at the end that I wear w Creepers).
Gaga was definitely one of the most anticipated Met Gala arrivals, but thankfully, she wasn't not the only fashion icon attending the event. I don't think I'm exaggerating when I say that Rihanna is, without a doubt, the queen of the Met Gala. Her look for last year's theme, "Rei Kawakubo/Comme des Garçons," received acclaim from social media and her fellow attendees. In fact, Gaga herself said that Rihanna was the best-dressed attendee.
Everyone was waiting for Rihanna to show up, and boy, did she show up and slay. May I introduce you to Pope RiRi.
Even though I may look forward to the Met Gala every year, rumor has it this isn't the same case for the actual attendees. On May 6, Page Six reported that celebrities actually don't look forward to the star-studded event. In fact, comedian Amy Schumer literally referred to the evening as a form of "punishment" during a 2016 interview with radio personality Howard Stern.
Perhaps the reason why this night isn't so exciting is because of the huge pressure to impress. From what started as a charity ball has turned into a nationally viewed soirée where everyone is intended to make a lasting impression. A celebrity stylist spoke to Page Six about preparing for the event, and how it's not as glamorous as we may think.
"Look, it's a very tedious night," the celebrity stylist told Page Six. "It's very much work for them. It's very structured, there's a lot of pressure to network, and [it's] not that much of an enjoyable evening."
In addition to being under the watch of fashion elite, attendees are also being viewed by an entire nation. Once the night begins, Twitter completely lights up with opinions and comments about the theme, fashion, and candid celebrity moments. Talk about pressure. Even though celebrities are probably used to all the attention, makeup artist Ashlee Glazer told Page Six that the national attention still makes celebrities uneasy.
"I think celebrities are nervous [to attend] because it's the who's-who of fashion and the whole entertainment industry as a whole," Glazer said. "They are going to be judged from 360 degrees."
Twitter may not be full of A-listers, but rest assured they'll always be willing to share some judgment as well.