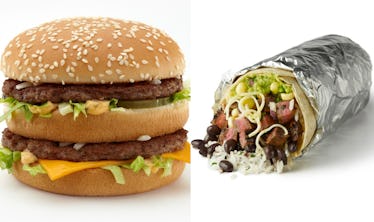 These Restaurants Open On New Year's Eve Will Fill You Up To Party All Night Long
Don't get me wrong — New Year's Eve is one of my absolute favorite holidays (aside from my birthday, of course). But, managing to find an open restaurant (that doesn't have incredibly long lines and isn't exorbitantly expensive) can be really, really difficult. Luckily, though, these 12 restaurants open on New Year's Eve 2018, and they're sure to satiate your pre-New Year's celebration hunger. Plus, they won't break the bank. And that, my friends, is a freaking holiday miracle, if you ask me.
Maybe your New Year's Eve celebrations will consist of drinking at a swanky bar, dancing the night away at a few clubs, or simply hanging out on that sweet, comfortable couch of yours for a totally lit Netflix movie marathon. Regardless of what you decide to do, though, snagging some good eats is a totally necessary step to ensure you don't end the year on a hangry note. Luckily, a number of restaurants are going to be open on both New Year's Eve and on New Year's Day (some with more limited hours, of course). With options like Chipotle, McDonald's, Chili's, and even Starbucks, there's no way you'll be hungry during those first few hours of 2019. You can check out which spots will hit the spot on Dec. 31 by checking out the list, below.