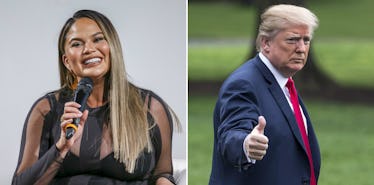 These 10 Shady Things Chrissy Teigen Has Said About Donald Trump Will Give You Life
Rich Polk/Getty Images Entertainment/Getty Images, Zach Gibson/Getty Images News/Getty Images
Celebrity relationships and friendships are a rare breed. These famous faces have their lives played out in front of the masses, whether it's the good, the bad, or the straight-up shady. In Elite Daily's new series, It's Complicated, we're highlighting the biggest celebrity "feuds" that took over Hollywood and dominated our Sunday brunches for weeks on end. We'll take a deep dive into the lives and social media feeds of our favorite stars and dissect what happened in front of the camera, what went down behind the scenes, and everything you might have missed in between.
Donald Trump may have blocked Chrissy Teigen on Twitter, but that hasn't stopped her from tweeting about him. I know the model mama recently posted that she hates when people write about her "epic" clapbacks on social media, but the thing is, she's just so freaking good at it. So with my apologies to the brilliant Lip Sync Battle star, here are 10 of the most shady things Chrissy Teigen has said about Donald Trump on Twitter. This stuff is actually pure gold, and the most genius thing about it is that she never actually has to say his name for all of us to know who she's talking about.
Of course, I love when Teigen straight-up calls Trump out, too. Like that time she told him no one liked him, the time she basically told him to grow the f*ck up, and — my personal fave — the time she wished him a happy birthday by calling him a monumental assh*le. But while she may not be able to tweet directly at the president anymore, it hasn't stopped Teigen from getting in her brilliant little digs. So here we go.
1. The time she perfectly captioned an image of Trump pulling the President of France through The White House:
2. The time she made it clear the Trump fam would never be spelling bee material:
"It fascinates me that this family makes so many spelling errors, knowing their tweets are seen by the entire world," she wrote after Eric Trump incorrectly spelled the word "concentration" in one of his tweets. "It is hard to make errors like this without it self-correcting. It has to be on purpose. But why? To make the people who call it out seem petty? I need to know."
Good question, and one Teigen followed up a few minutes later with a second tweet:
"I don't even think spelling errors are a big deal," she explained. "But you are the president. The president's children. No proofreading? My phone won't even LET me spell most words that way. It fascinates me. It's 6am."
And then she added a third tweet on the same topic, because why not?
3. The time she made it clear she was proudly watching the Stormy Daniels interview on 60 Minutes:
4. The time she responded when Claude Taylor speculated that Stormy's lawyer had pics of Trump's junk:
5. The time she put two and two together:
This tweets marks one of the few times Teigen actually mentioned the president by name. But her theory is so good here that I'm just rolling with it.
6. The time she basically compared Trump to Seinfeld's Newman:
7. The time she promised to Make America Nap Again:
8. The time she got real about "if Obama did this."
9. The time she reminded us that the struggle is real, and that Man vs. Self was one of the types of conflicts we learned back in high school:
10. And finally, the time she helped us understand the true meaning of the word "meta":
This actually makes perfect sense in my head too, Chrissy. Here's an idea: Teigen 2020. We already know she'd crush it on Twitter. Plus, I really did love that Make America Nap Again idea.
Girl, you've def got my vote!