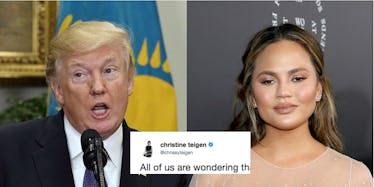 Chrissy Teigen Called Out Donald Trump's "Fake News Awards" & It's Just Beautiful
Olivier Douliery-Pool/Getty Images // Phillip Faraone/Getty Images for The Art Of Elysium
Chrissy Teigen is not exactly President Donald Trump's friend. The model and cookbook author is one of the few individuals that have been blocked from being able to see the president's tweets from his personal account for her consistent critiques of his actions. So she may not have seen the actual tweet that Trump posted when he announced his co-called "fake news awards" at the start of this year. But she is definitely aware of them, and decided to respond to the event on the day they were supposed to happen. Chrissy Teigen's tweet about Trump's "Fake News Awards" is absolutely perfect, proving she is forever a treasure to the American people.
On Jan. 2, Trump announced via Twitter that he would be conducting his very own "Fake News Awards" that would award the networks and media outlets that he believes are dishonest and corrupt. In the tweet he said, "Subjects will cover Dishonesty & Bad Reporting in various categories from the Fake News Media." The awards were originally supposed to happen on Jan. 8 at 5p.m., but were postponed to today, Jan. 17, due to the interest in the show being "far greater than anyone could have anticipated," according to Trump.
Well, the day is winding down on the East Coast and still no awards show to be seen or addressed by Trump. He has been tweeting per usual, but no mention of the awards. But the one person who did address the awards, or lack thereof? Everyone's favorite fun mom, Chrissy Teigen.
Teigen called out Trump for not following through with his "Fake News Awards" on his favorite social media platform.
But it gets better. Not only is Teigen addressing the fact that Trump apparently lied about making this "awards show" happen (the very thing he supposed to be giving these media outlets awards for — lying), she even made a video where she made place cards and drew cartoonish renditions of the reporters who we can safely assume are nominees for the "fakies."
The "audience members" (which includes Teigen) are patiently waiting for Trump to kick off the awards, and it doesn't look like he's showing up. Included in the guest list at the "Fake News Awards" are MSNBC, CNN, Teigen of course, and my personal favorite — "Fake Tapper." Oh Chrissy, I have never loved you more.
This is not the first time Teigen has addressed this ridiculous awards show that Trump has apparently concocted in his mind.
When the "awards" were first announced on Jan. 2, Teigen tweeted a day later and joked that she'd hosting the ceremony's red carpet special. She said in the tweet, "Excited to host the red carpet LIVE at "The Most Dishonest and Corrupt Media Awards"!!! Be sure to tune in!!" Teigen's joke has certainly kicked up a notch now that the "awards" didn't even happen, and I am absolutely living for it.
This whole "Fake News Awards" fiasco that Trump created was pretty much a joke from the start. When he first tweeted announcing his plans to award the most corrupt media organizations and networks, none of them took him seriously. I mean The Daily Show's host Trevor Noah even took out an ad in The New York Times just to mock Trump and his "awards." Ad space is not cheap, people, and especially not a full page ad in the Times — and in color at that.
I must say, I am slightly disappointed that this silly "show" garnered a ton of media attention in anticipation and nothing to show for it from Trump (thus far). So at least Teigen has managed to pull through and fill the void for the entertainment that I was expecting out of the "Fake News Awards" today. Chrissy over everything, that is all.