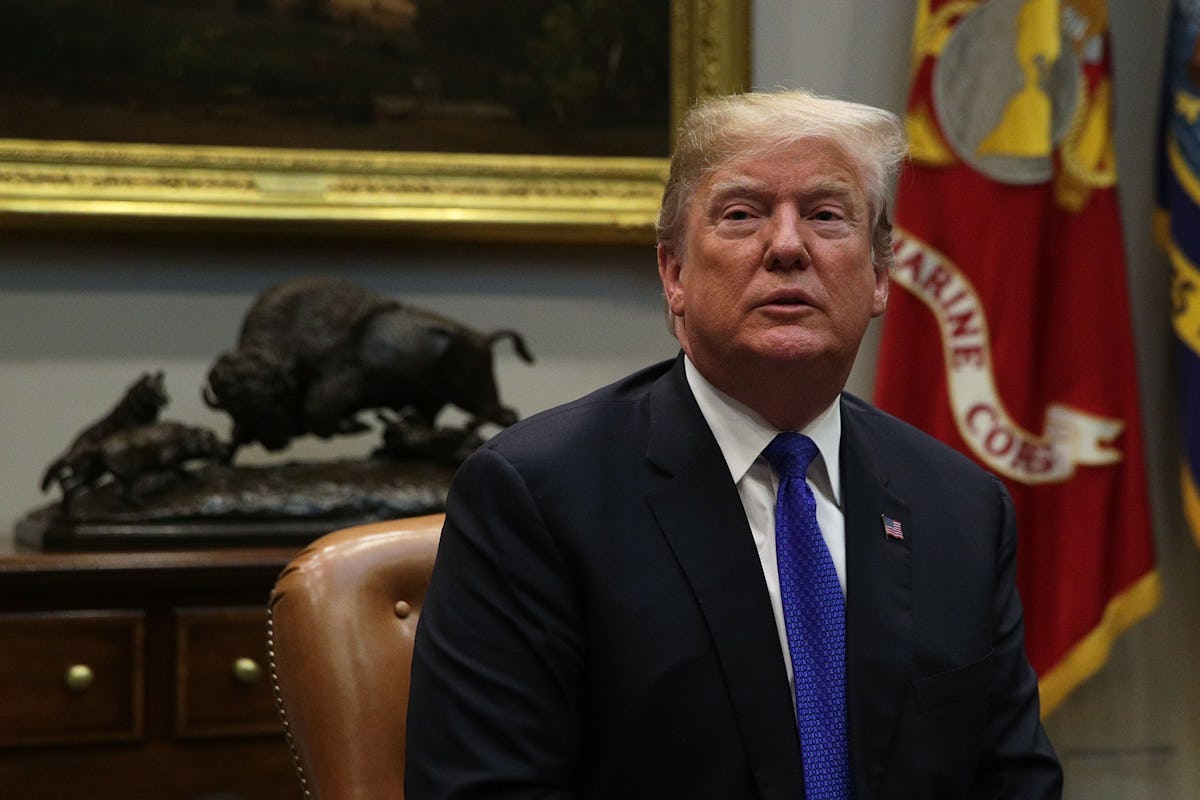 Talk Show Hosts Are Trolling Trump For His "Dishonest & Corrupt Media Awards"
Alex Wong/Getty Images News/Getty Images
The start of Hollywood awards season is upon us, and it appears the president wants a piece of the action. Donald Trump announced he will be revealing the winners of his — no joke — Dishonest & Corrupt Media Awards on Monday, Jan. 8 to get a dig in at the media. Happy 2018, y'all.
"I will be announcing THE MOST DISHONEST & CORRUPT MEDIA AWARDS OF THE YEAR on Monday at 5:00 o'clock," tweeted Trump on Tuesday, Jan. 2. "Subjects will cover Dishonesty & Bad Reporting in various categories from the Fake News Media. Stay tuned!"
While Americans can expect to find out who won this year's Golden Globes on Sunday, Jan. 7, Monday's "awards" are less clear. Trump's suggestion at first appeared to be a joke in his tweets this week about "celebrating" the "Fake News" and "Mainstream Media" he's always harping about. But it seems that Trump is actually going through with it.
According to The Hill, Trump's tweet on Tuesday announcing the idea came after an email blast to his supporters asking them to help him choose a "Fake News Trophy" to award. "Americans are sick and tired of being lied to, insulted, and treated with outright condescension," the email read, per The Hill. "That's why President Trump is crowning the 2017 KING OF FAKE NEWS before the end of the year."
Clearly, the end of the year already came and went, but it's not too late to honor the great work of the year we just put behind us, right? And the prospective nominees seemed on board.
Talk show hosts were here for the idea.
But if the president was hoping to rile up those in the media he was clearly targeting, it didn't quite go as planned. Media celebrities jumped on Trump's idea and began trolling him over it, posting their own parodied posters promoting themselves to "win" one of the awards.
"So excited for Monday's "MOST DISHONEST & CORRUPT MEDIA AWARDS OF THE YEAR!" See you on the red carpet, @AndersonCooper! #TheFakies," tweeted Stephen Colbert, host of the comedy news show The Colbert Report.
Jimmy Kimmel, for his part, suggested renaming the show to The Stupid People's Choice Awards during Jimmy Kimmel Live! on Wednesday. But as for whether Trump would give out trophies, Kimmel wasn't sure. "On one hand, you know, he loves awards and trophies," the host said. "But will he be physically able to give a trophy to someone other than himself? I don't think so."
"Nice try @colbertlateshow and @TheDailyShow, but we're sweeping the #Dishonesties this year. (P.S. @realdonaldtrump, how about a female host next time?)," tweeted Full Frontal host Samantha Bee.
Things didn't stop at social media, though. Trevor Noah, the host of The Daily Show, took things one step further by taking out an ad on page A7 of The New York Times's Friday issue hoping to woo Trump.
"Hey @realDonaldTrump, show them you're not semiliterate! Read page A7!," tweeted the official Daily Show account on early on Friday, Jan. 5.
And Colbert has apparently rented out a digital billboard in Times Square with a "For Your Consideration" ad of his own, The Washington Post reports.
So... is it actually happening?
Per The Post, White House Press Secretary Sarah Huckabee Sanders confirmed that there would, in fact, be an actual show. What that looks like is a bit more fuzzy. "I certainly don't want to spoil anything, but my guess is that there are quite a few individuals that could be up for those awards," she was quoted saying at White House press briefing. "And beyond that, I think we'll have to see what happens on Monday." As for whether the show would be televised, or whether the press would be getting an invite, was unclear.
Either way, now's the time to stock up on popcorn and prepare to laugh and or cry your way through Monday, whatever it may bring.