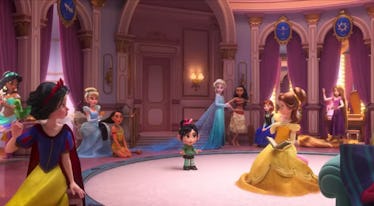 The 'Wreck-It Ralph 2' Trailer Is Here & This Summer Is Officially Going To Be Lit
Disney
Wreck-It Ralph and Vanellope von Schweetz are getting a massive upgrade in Wreck-It Ralph 2, but as the brand-new trailer for the sequel shows, their new environment is more confusing than ever. Disney just dropped its full-length trailer for Ralph Breaks the Internet: Wreck-It Ralph 2, and it is jam-packed with viral jokes, new characters, and Disney Easter eggs galore.
The highly anticipated Disney animated sequel will transport the heroes of 2012's Wreck-It Ralph from their arcade game homes into the vast expanse of the Internet. The first trailer for the movie, released back in February, focused on Ralph fumbling his way through literal pop-up ads and confusing websites, but the new trailer shows us the much savvier Vanellope's journey through the technological landscape, which involves a bunch of very familiar faces for any Disney lover.
At last summer's D23 expo, Disney confirmed that every Disney princess will appear in Wreck-It Ralph 2, welcoming in Vanellope von Schweetz as the latest addition to the Disney princess family, and the new trailer finally shows us all of the Disney princesses together as they meet Vanellope. The iconic princesses bond with their newest inductee after she glitches into their dressing room within Disney's website (talk about meta) and bond over the misconception that they all need a big strong man to come save them. We also get to see Vanellope run away from some Stormtroopers, as a gift to all the Star Wars fans.
Check out the full Ralph Breaks the Internet: Wreck-It Ralph 2 trailer below:
Along with giving the Disney fans a ton of cool cameos and Easter eggs, the new Wreck-It Ralph 2 trailer also introduces some important new characters into the movie. First there's KnowsMore, whose voice fans of the first movie might recognize. KnowsMore is a tiny, purple search engine, whose "autofill" causes him to cut people off before they can finish getting a word out. The new character is voiced by Alan Tudyk, who voiced the villainous King Candy in the first movie.
The other major introduction is Yesss, a stylish purple algorithm who has her finger on the pulse of what's trending and what's not, and is voiced by none other than Taraji P. Henson. In the trailer, we see Yesss get into a fight with Ralph over the movie's title, insisting that Ralph Breaks the Internet is "like, a thing." Thanks again, Kim Kardashian.
In addition to these new faces, Ralph Breaks the Internet: Wreck-It Ralph 2 will also bring back a couple of familiar faces for fans of the first movie. Jack McBrayer will return as the happy-go-lucky handyman Fix-It Felix and Jane Lynch will reprise her role as the hard-as-nails military expert Sergeant Calhoun, although since neither have shown up in the trailers yet, it is unclear whether we will see them transported to the Internet with Ralph and Vanellope or not. The new movie will also feature new characters voiced by James Corden, Ana Ortiz, and Susan Lucci, although none of their roles have been revealed yet.
In terms of what other Easter eggs we can expect, the trailers have only focused on Disney princesses and Star Wars characters, but Disney has more in store for the movie. Wreck-It Ralph 2 will also include references to Marvel Comics characters as well as The Muppets, two of Disney's other biggest properties. It looks like we are just going to have to wait and see where all these Easter eggs land in the movie — be sure to watch it carefully!
Ralph Breaks the Internet: Wreck-It Ralph 2 arrives in theaters on Nov. 21, 2018.