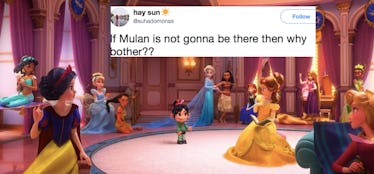 Fans Are Seriously Pissed Over This Photo Of The Disney Princesses In 'Wreck It Ralph 2'
Disney/@Disney_UK
Disney just released a first-look image from Wreck-It Ralph 2 featuring some beloved princesses, but it looks like a certain someone got left out. Mulan is mysteriously absent from the photo, which has people scratching their heads and speaking their minds. Did Disney think they wouldn't notice? These tweets about Mulan missing from Wreck-It Ralph 2 show you can't get anything past a Disney fan. Where is Mulan?!
Ralph Breaks the Internet: Wreck It Ralph 2 is the long-awaited follow-up to the 2012 animated favorite Wreck It Ralph. John C. Reilly, Sarah Silverman, and Jack McBrayer all return for the video game-inspired film, but this time Ralph and Vanellope von Schweetz will be going from the arcade to the world wide web. A portion of the official synpsis reads:
Video game bad Ralph (voice of John C. Reilly) and fellow misfit Vanellope von Schweetz (voice of Sarah Silverman) must risk it all by traveling to the world wide web in search of a replacement part to save Vanellope's video game, Sugar Rush. In way over their heads, Ralph and Vanellope rely on the citizens of the internet - the netizens - to help navigate their way, including a website entrepreneur named Yesss (voice of Taraji P. Henson), who is the head algorithm and the heart and soul of trend-making website 'Buzztube.'
The Wreck-It Ralph 2 D23 presentation in July revealed that the Disney princesses would be making an appearance all together in the upcoming film. And now there's a picture to prove it. OK... there's Rapunzel, Tiana, Jasmine, Aurora, Snow White, Cinderella, Moana, Pocahontas, Belle, Elsa, and Anna. Hmm.
No Mulan in sight. What does Twitter have to say about that? Echoing Wreck-It Ralph 2's full title, angry tweeters practically broke the internet themselves.
Buzzfeed noted that Mulan is indeed listed on the film's IMDB page, and so is Ariel and Merida. Maybe they just didn't make this particular photo? Ming-Na Wen, who voiced Mulan in the 1998 standalone film Mulan, even discussed reprising the role for the project while speaking with CinemaBlend earlier this year.
"I can't wait to see it. It's a very funny moment between the princesses, and I love Wreck-It Ralph, so I'm excited to see how it's all incorporated," the actress teased of the sure-to-be iconic princess crossover scene.
The first teaser trailer for Wreck-It Ralph 2 was released back in February, giving audiences a glimpse at Ralph and Vanellope's chaotic introduction to the wonder that is the world wide web as they face everything from spam to clickbait to popular sites.
Wreck-It Ralph 2 co-director Rich Moore discussed how diving into the unfamiliar territory of the internet will affect the characters' world view and relationship. He explained to EW upon the teaser's release:
Ralph and Vanellope are two people from this little town, this arcade world, who seem to everyone else that they're exactly the same in their point of view, but upon going to a bigger place, we start to see what cracks develop between these two. We very quickly come to realize they don't have the same point of view. Ralph likes the comfort of his small town. And Vanellope, upon going to the Internet, starts to think, 'Just being here is expanding my horizons.' We bounce the story off that dynamic between the old and the new.
Ralph Breaks the Internet: Wreck-It Ralph 2 is slated to hit theaters on November 21, 2018. Hopefully, fans will get the chance to get a sneak peek of Mulan's highly-anticipated appearance before then. Give the people what they want, Disney.