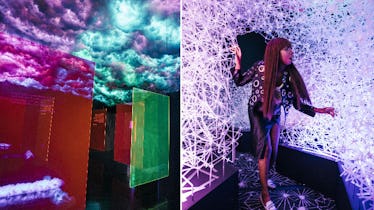 This Dreamy Pop-Up Lets You Experience What It Would Be Like Walking In The Clouds
When you think of pop-up museums, you probably think of posing for Insta-worthy pics, right? Well, on top of having a variety of rooms that were made for the 'Gram, the wndr museum in Chicago brings both art and science together to create an immersive experience you really have to see to believe. Like other pop-ups, the wndr — which is pronounced "wonder" — museum shines a spotlight on immersive art installations you'll definitely want to snap a ton of pictures of. Though, what really makes this museum stand out is that it explores scientific themes, like subatomic particles and gravity, in each of its spaces.
If you're Instagram pop-up obsessed, you probably have "snap a pic in an infinity mirror room" at the very top of your bucket list. Well, the wndr museum is bringing the iconic Yayoi Kusama Infinity Mirrored Room to Chicago for the first time ever. (Get ready for all of your Insta dreams to come true.)
Along with the mirrored room, you can also check out other awesome installations, including a zero-gravity chamber, cloud room, color tunnel, DNA cave, and more. The museum may not have a pool full of sprinkles, but if you're like me and love all things science, you'd rather be exploring the particle pit that this place has to offer instead.
Your head will literally be in the clouds in this room.
If you've ever laid on the grass looking up at the sky and wondered what it would really be like to walk amongst the clouds, you definitely want to make a pit stop in this dreamy cloud room. No need to book a plane ticket to jet into the sky, because in this colorful room, you'll experience clouds first-hand. As you're walking amongst the water vapor clouds, snap a pic with your besties and caption it with something punny like, "For crying out cloud."
Swoon over all the colors in the prism room.
Thanks to our love of unicorns, iridescence is making waves in the beauty and fashion scene. So, if you're a rainbow, mermaid, and unicorn lover like me, you'll definitely want to walk through the prism room in the museum.
The walls are covered in colorful light prisms that'll remind you that your favorite shades of the rainbow are always all around you. Use the prisms as a backdrop for an Insta-worthy snap that you can caption with, "Be a pop of color in a black and white world."
Let the light follow you in a magical color tunnel.
One of the coolest immersive parts of the museum comes in the color tunnel. The tunnel was made for guests to experience color, and that's exactly what you get to do. As you walk along, the floor lights up from underneath your feet with each step. Science really is magic. If it were me, I'd be walking all over that tunnel, snapping boomerangs left and right.
Go "to infinity and beyond" in the mirrored room.
Of course, if you're planning on visiting the wndr museum, you have to check out the famed Yayoi Kusama Infinity Mirrored Room called "Let's Survive Forever." You've probably seen a few of Kusama's rooms filling up your Insta feed, and want to check out the hype for yourself. They are mirrored rooms that truly make you feel like you can see for infinity. With stainless steel balls all around you, you'll feel like you're in a dream.
Tickets for the wndr museum are on sale now for $32. The museum will be open through the end of the year (at least), but nevertheless, you and your squad should planet soon if you want to get in on the "infinity and beyond" action.