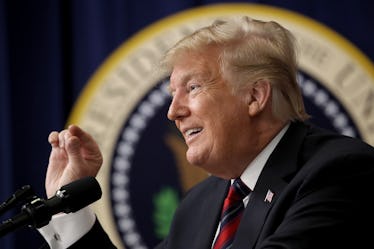 The White House Response To Those Suspicious Packages Is Missing Something Big – UPDATE
Win McNamee/Getty Images News/Getty Images
A wave of panic started Wednesday morning when the Secret Service intercepted suspicious packages addressed to Hillary Clinton, President Barack Obama, news outlet CNN, and more. Representatives for Clinton did not respond to Elite Daily's request for comment on the incident, while representatives for Obama referred questions to the U.S. Secret Service. Thankfully, everyone is safe, but the White House response to the suspicious packages sent to the Clintons and Obama is missing something big. Presidential-sized.
UPDATE: On Wednesday, Oct. 24, Trump spoke about the packages before an event on opioid crisis at the White House. He said, "In these times, we have to unify, we have to come together and send one very clear strong, unmistakable message that acts or threats of political violence of any kind have no place in the United States of America." He continued, saying, "This egregious conduct is abhorrent to everything we hold dear and sacred as Americans."
EARLIER: On Wednesday, Oct. 24, "potential explosive devices" were sent to Clinton's home in New York and to Obama's home in Washington, DC. This was a few hours before the New York Police Department evacuated the Time Warner Building in New York City, which houses CNN headquarters, after reports of another suspicious package, which officials later confirmed appeared to contain a live explosive and unidentified white powder, according to CNN. Additional packages were also sent to the office of New York Gov. Andrew Cuomo, according to the governor himself at a press conference that day, and Congresswoman and former Democratic National Committee Chair Debbie Wasserman Schultz, per NBC Miami. According to The New York Times, the packages sent to Clinton and Obama were very similar to the one sent to the home of Democratic donor George Soros on Oct. 22. Following the morning's events, White House Press Secretary Sarah Huckabee Sanders said in a statement that the Trump administration "condemns the violent attacks", calling them "terrorizing" and "despicable," and promised that action will be taken. Sanders said,
We condemn the attempted violent attacks recently made against President Obama, President Clinton, Secretary Clinton, and other public figures. These terrorizing acts are despicable, and anyone responsible will be held accountable to the fullest extent of the law. The United States Secret Service and other law enforcement agencies are investigating and will take all appropriate actions to protect anyone threatened by these cowards.
In an update, Sanders sent out a tweet saying that the president is "monitoring" the situation, and condemned the attack against CNN, which was left out of the initial statement. She wrote,
This is an ongoing situation that President Trump and his admin are monitoring closely. Our condemnation of these [despicable] acts certainly includes threats made to CNN as well as current or former public servants. These cowardly acts are unacceptable and wont be tolerated.
There's no real problem with Sanders' statement. It's solid and blatantly states that the White House is vehemently against these sort of attacks and action will be taken, but it's missing something big — namely, any direct statement from President Donald Trump. In fact, the president's only comment on the matter was borrowed from someone else. Elite Daily reached out to the White House for comment on the lack of any direct statement from the president, but did not immediately hear back.
It's no secret that Trump loves to air his own thoughts and opinions on Twitter, but on Oct. 24, he chose to borrow Vice President Mike Pence's statement on the packages sent to Obama, Clinton, and CNN. The vice president mirrored Sanders' sentiment with a Wednesday tweet condemning the multiple attempted attacks, and thanking the "swift response of the Secret Service." Pence wrote,
We condemn the attempted attacks against [former] Pres Obama, the Clintons, @CNN & others. These cowardly actions are despicable & have no place in this Country. Grateful for swift response of @SecretService, @FBI & local law enforcement. Those responsible will be brought to justice.
Trump, in lieu of giving his own statement, retweeted Pence's statement with the comment "I agree wholeheartedly!"
President Trump's lack of a personal comment is standing out, especially as compared to the statements from other politicians. Besides Pence, Speaker of the House Paul Ryan shared a statement on Twitter calling the ordeal "reprehensible," and stating, "We cannot tolerate any attempt to terrorize public figures."
His own daughter, Ivanka Trump, also condemned the attempted attacks in strong words. "I strongly condemn the attempted acts of violence against President Obama, the Clinton family, @CNN & others.," she wrote in a tweet. "There is no excuse—America is better than this. Gratitude to the @SecretService and law enforcement for all they do to keep this nation safe."
And even Hillary Clinton, the apparent target of one of the attempted attacks, spoke out to thank the Secret Service, calling it a "troubling time."
Following the attempted attacks, many people referenced the president's heated political rhetoric, in which he had aimed multiple attacks at Democrats and journalists and at times even seemed to praise violence, including when Trump praised a politician who had physically attacked a journalist earlier in October. The White House did not immediately respond to Elite Daily's request for comment on the president's rhetoric.
The criticism is not limited to social media. In a Wednesday press conference, New York Mayor Bill De Blasio responded to a reporter's question about the president's rhetoric, saying, "In a time when there's a lot of hatred and division, it does not make sense to exacerbate it." Toning down aggressive political rhetoric "has to start from the top," he added.
In the meantime, thankfully, no one has been hurt. Let's hope it stays that way.