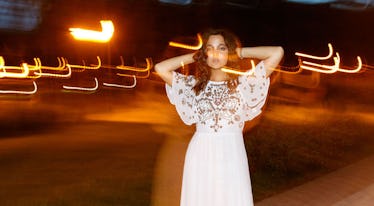 The Wedding Dress Style You Should Definitely Avoid, Based On Your Zodiac Sign
They say your wedding day goes by in a blur, and I believe it. Maybe it's the surreal experience of getting married, or the culmination of the literally hundreds of choices you've made in the months leading up to your wedding day. These choices include, of course, your wedding dress (if you feel inclined to wear one). And let's be honest, if you got that decision wrong, you'll probably feel pretty bummed. So, don't be afraid to use every tool at your disposal, including knowing the wedding dress style to avoid based on your zodiac.
By taking your zodiac sign into account, you can focus on who you are and what you want in your life for the rest of year, and use that to inform your wedding dress choice. In other words, it can help keep the wedding mania from causing you to pick the dress you think you (or your bossy bridal party) should get, rather than the one that will truly speak to your heart and reflect you who are. That said, a good place to start is by eliminating the type of dress you definitely don't want. With all that in mind, here is the style of dress you should probably steer clear of, based on your zodiac sign.