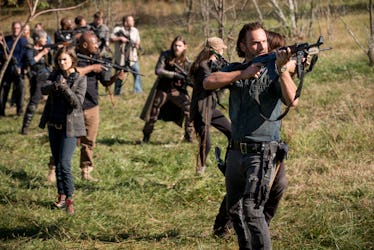 The Final Battle Between Rick & The Saviors On 'The Walking Dead' Had An Epic Twist
Were any of us really prepared for this The Walking Dead finale? I highly doubt it. We all knew we could expect a serious showdown in this final episode of Season 8, but the fight scene between Rick and the Saviors on The Walking Dead's Season 8 finale truly made this one of the best season endings in television history.
Coming into this season finale, we knew that there was going to be a showdown. In recent weeks, we've seen Rick and Negan finally face off, the destruction of Alexandria, and the massacre of the Scavengers, not to mention one of the most heartrending deaths we've seen on this show so far. So if you had the popcorn ready, waiting for a big battle, well — you weren't disappointed.
When Rick and Maggie's Hilltop/Alexandria crew faced off with Negan's saviors, we got a turnaround in the final battle that I don't think anyone was expecting. As the Saviors had Rick's crew surrounded, and it looked like this "all out war" was going to end in an all-out massacre, all of a sudden things blew up. Literally. The guns that Negan's army held, instead of firing their bullets, instead exploded in their owners' hands.
All, apparently, thanks to Eugene — who apparently sabotaged the construction of bullets to leave the Saviors unarmed in their final battle. And fans were shocked.
As dramatic as this was, we're lucky we had a heads up about what to expect. Tensions between the Saviors and the Alexandrians were a recurring theme throughout the entire season, and well, this "All Out War" between Rick and Negan we were promised certainly didn't disappoint. The promo for the finale revealed that Rick and Negan were both planning their attack plans. Rick left the Hilltop in anticipation of facing off while Negan spent his time practicing his shooting skills with a "Rick" target. I don't know about y'all, but I was counting the minutes until I could see this duo battle it out, and now that it's done I could seriously watch it over and over again.
I may be a fan of hugging it out, but in The Walking Dead world that's just not a possibility.
Even though that season finale might have been everything I've ever dreamed of, this means that we'll have to wait an excruciating amount of time until Season 9 premieres. So what can we expect from the upcoming new season? Well, there's going to be some exciting changes behind the scenes. In January, Variety reported that showrunner Scott Gimble would be promoted to to chief content officer, leading him to promote Angela Kang, a longtime writer and co-executive producer of The Walking Dead, as executive producer and showrunner.
Most fans know Kang by her character-driven plot lines. In fact, many of the series' highlights were written by Kang herself, including Season 2's "Judge, Jury, Executioner," Season 4's "Still," and Season 8's "The Cell." Even though drama is always exciting to watch, it's really the characters that give The Walking Dead such amazing material. So with Kang taking hold of the reins, Season 9 is sure to be an incredible new chapter.
After the announcement, Kang spoke to Variety about her new role and the next chapter of The Walking Dead.
She said,
I am beyond thrilled to be stepping into this new role with The Walking Dead. Working on this series and having the opportunity to adapt Robert Kirkman's amazing comic has been a fangirl dream come true for me. I'm excited to continue working with Scott and the wonderfully supportive folks at AMC, and can't wait to share the next chapter of the story with our fans next fall.
Judging from Negan and Rick's epic fight, I predict that ratings will be going up for The Walking Dead. In December 2017 Variety reported that there's been a significant decline in ratings, and even Season 8's midseason finale couldn't lift the numbers way up. It did boost viewership a bit, especially after it was revealed that Carl had been bitten by a walker. Since then, the rest of Season 8 has been an improvement after its mid-season premiere, which received the show's lowest ratings since the third season, even though it was the show's 100th episode.
Perhaps Kang will be the change The Walking Dead needs to really give those ratings a boost. I, for one, can't wait to see all the ideas she has for the characters. I don't think I could get any more invested into their lives, but there's a part of me that expects to be proven wrong.
In the meantime, Sunday nights won't be the same.