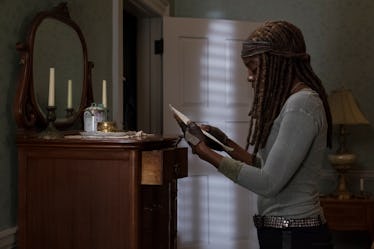 The War Is Coming To A Head On Next Week's 'The Walking Dead' & I'm So Nervous
Gene Page/AMC
The Walking Dead audiences are gearing up for arguably the biggest showdown in history. As the season finale draws closer, we can expect an all out battle between the Saviors and Rick's crew. Plus, with the discovery of infection as a weapon of war, the stakes have gotten even higher. Just when we thought things couldn't escalate, the Season 8 Episode 15 promo of The Walking Dead is preparing us for (even more) all out war.
As if we weren't already torn to pieces from tonight's episode, next episode's promo promises plenty of action and suspense. In the promo, the Saviors, apparently led by a returned Negan, plan a takeover of the Hilltop, mapping routes of where to start their attack. But if I were Negan, I wouldn't feel so safe with Simon — who already disobeyed and betrayed Negan once — at my back. Judging from the intensity from both sides, it looks like it's going to be perhaps the biggest showdown in The Walking Dead history. Plus, we've only got two episodes left until the season finale. Is it possible to be so prepared but yet so unprepared for something at the same time?
Season 8 Episode 14 "Still Gotta Mean Something" was a drastic turn from the previous week's episode, which was a night of dramatic car chases, Rick-Negan showdowns, and Jadis actually kidnapping Negan at the end. So of course, we were expecting some sweet revenge from Jadis on behalf of her beloved Scavengers, but things took an emotional turn for Jadis as she still struggled to cope with her whole community being wiped out by Negan's crew. It's not often that Negan is at the mercy of another's hands, and that's what made this episode so juicy. So clearly, things are getting intense.
Just watch this promo for next weeks's episode and see for yourself.
Plus, emotional interactions between Michonne and Rick following the death of Carl are surefire tear jerkers for those equally devastated by Carl's fate. Grief is the name of the game in this episode, and it serves as a reminder that war isn't just about battle, it also guarantees tragedy.
Not to mention that this "all out war" just reached a new level when we found out using zombie guts to infect someone can kill them just as much as a walker bite. This new weapon of attack is sure to raise the stakes as the Saviors battle to take over the Hilltop.
This episode definitely brought some perspective to audiences' eyes about all how the looming threat of war and loss are getting to these characters. Even though we can expect a dramatic finale, who knows what exactly that will entail? The anticipation is killing me.
It's no secret that this season is gearing up to host a huge finale. Scott Gimple, one of the writers of The Walking Dead spoke with The Hollywood Reporter about what fans can expect, or if we can expect anything at all.
He said,
It is the cumulative conclusion; all of the story threads meet there. And things along the way, I hope — and even by the end of the episodes leading up to it — have greater meaning...In some ways, I think it will challenge the audience as it challenged the characters, in terms of how they feel. It's classic Walking Dead: How they feel about what they would have done in the characters' places and they might feel by episode eight, one way; and by episode 16 an entirely different way. That really is part of the journey that we're trying to give to the audience. It's bumpy because the characters go through hard things and then the audience goes through hard things. It's part of that greater story that maybe you'll see that hard thing in a different way by the end of this season. It's a high-wire act.
My body has never been so ready.
It was confirmed by AMC in Jan. that The Walking Dead would be gracing our screens for a ninth season, thankfully, so don't think this is all over yet. However, things might not be completely the same since there's some pretty major changes happening behind the scenes. In January, Variety reported that Gimple has been promoted to chief content officer, leading him to promote Angela Kang, a longtime writer and co-executive producer of The Walking Dead as executive producer and showrunner.
A new season and new showrunner?
The season finale might not have even aired yet, but I'm already looking forward to the next season. Happy viewing y'all.