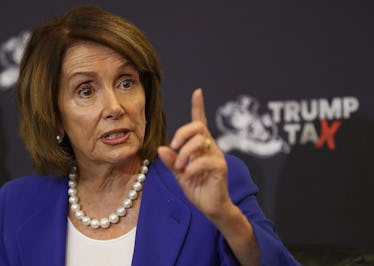 Nancy Pelosi Has Been Speaking In Support Of Dreamers For Hours & It's So Inspiring
Joe Raedle/Getty Images News/Getty Images
Attention everyone: Nancy Pelosi has something to say, and you better be listening. In response to the threat facing Deferred Action for Childhood Arrivals (DACA) come Mar. 5, the deadline president Donald Trump gave for the program, the Democrat House leader is staging a filibuster (of sorts) in order to put pressures on Congress and Paul Ryan to open up the immigration debate. If you're not already convinced that she's a total queen, then this video of Nancy Pelosi's Dreamers filibuster will totally change your mind.
Pelosi took the floor on Wednesday, Feb. 7 at 10 a.m ET using her power as a minority leader to speak uninterrupted. Thus far, Pelosi has spoken for over seven straight hours, and has broken a record for the "longest contiguous speech in the House since at least 1909," according to a House historian. In order to fill up that time, Pelosi has read letters from from Dreamers, the young immigrants protected by DACA, about how the DACA program has helped them achieve their goals by assisting with their education and applying to jobs. After all, isn't that what the "American Dream" is all about?
According to ABC, Pelosi believes these Dreamers' stories are the ones that need to be heard by Congress. Pelosi said,
We want to be sure that the public record of the Congress of the United States forever more will reflect the stories of their great contribution to America in the hopes that those stories will move the Speaker of the House to give us a vote.
You can see the livestream of Pelosi's ongoing speech here:
Coming the sixth hour, Pelosi boldly stated on the floor, "I have no intention of yielding back."
Chills.
The DACA program was established in 2012 by former President Barack Obama and has helped open up opportunities for Dreamers in education and careers. Before this program was introduced, the promising young adults were denied opportunities to achieve their dreams. President Donald Trump announced his plan to cancel DACA, leading many to question the future for these young adults. However, on Sep. 5, 2017 the White House gave Dreamers a glimmer of hope by delaying DACA'S demise by six months, giving Congress until then to come up with a plan for Dreamers. However, as the six-month deadline of Mar. 5 approaches, the future for these Dreamers is still unclear.
Pelosi is speaking to pressure Congress to figure out a plan, and one that would help Dreamers, since, so far, they haven't done much to figure anything out. She's using a Feb. 8 budget plan deadline to force the issue. Republicans have proposed a two-year budget deal, which will set government spending for a two-year period, and Pelosi stated her intention to oppose it.
Her opposition comes in large part because there have been no discussions about what to do with Dreamers. While the budget deal does address a number of Democratic issues and priorities, the lack of discussion surrounding immigration is a problem Pelosi believes needs serious addressing. Immigration has been a huge topic throughout Donald Trump's presidency, and Pelosi is urging House Speaker Paul Ryan to at least bring this subject into the conversation. Pelosi said on Wednesday,
Why should we be treated in such a humiliating way when the Republican Senate leader has given that opportunity in a bipartisan way to his membership? Without that commitment from Speaker Ryan this package does not have my support nor does it have the support of a large number of members of our caucus.
Pelosi has been shedding light on the importance of DACA by reading a variety of stories that Dreamers wrote in letters. These letters include one by Jirayut New Latthivongskorn, who wrote that his parents brought him from Thailand to the U.S. when he was nine years old, per ABC News. According to his letter, Latthivongskorn worked 30 hours a week in his family's restaurant all while achieving a 4.3 GPA in high school. He later was offered a full scholarship to University of California, Berkeley, but was forced to turn the opportunity down due to his immigration status.
DACA was introduced a month after Latthivongskorn completed his undergraduate degree. In 2014, he began medical school at University of California, San Francisco and has started a network to help Dreamers who want to pursue careers in healthcare. The most amazing thing of all? He was UCSF's first undocumented student and was recognized by Forbes' "30 Under 30."
Can't get enough of women totally slaying a filibuster? Neither can we. On June 26, 2013 Texas Senator Wendy Davis took the floor to oppose a bill that would restrict access to abortion in the state. Sporing a fly pair of pink running shoes, Davis spoke for ten hours and 45-minutes before getting cut caught off by Republicans claiming she had "strayed off topic" by having a colleague assist her with a back brace. She was only two hours away from meeting the 13-hour filibuster deadline.
Though it was announced soon after the bill had passed by 19 votes to ten, Davis still ended up the champion when the Supreme Court ruled in 2016 that the law was unconstitutional.
May Nancy Pelosi stand tall and fight for the rights of these Dreamers. You go, queen!