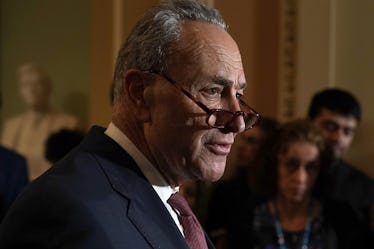 The Senate May Have A Plan To Stop The Monthly Threat Of A Government Shutdown
Alex Wong/Getty Images News/Getty Images
With just two days until the government runs out of funding for the second time in 2018, lawmakers are on the verge of securing a solution. The Senate might pass a two-year budget deal that would increase domestic and defense spending for 2018 and 2019. Otherwise, federal funding is slated to expire on Thursday, Feb. 8.
Reports indicate that Senate Majority Leader Mitch McConnell (R-KY) and Minority Leader Chuck Schumer (D-NY) are nearing an agreement that would put to bed a months-long saga to approve a federal budget. According to The Hill, the two Senate leaders met in McConnells' office Tuesday morning, and aides said that they were both happy with the outcomes.
"We are closer to an agreement than we have ever been," Schumer said on the Senate floor Tuesday, per CNN. The deal would increase the budget by $300 billion over that two year span, and would likely be folded into a short-term bill to be voted on this week to fund the government through Mar. 23, according to Politico.
The specifics of the deal aren't yet clear, but as of now, nothing has been said about whether it would address protections for Dreamers, young immigrants who arrived to the U.S. as children. The Deferred Action for Childhood Arrivals (DACA) program that protects Dreamers from deportation — and the broader issue of immigration — has become one of several key demands made by Democrats in budget negotiations.
While Democrats have sought a long-term solution for immigrants and DACA recipients, President Trump was hoping to made this conditional upon funding for a border wall with Mexico. For their part, many Republicans were concerned with funding for the military.
Congress has tried unsuccessfully for months to lock down the long-term budget. Stuck in what's seemed to be a perpetual gridlock, they've had to pass four short-term spending bills, called Continuing Resolutions (CR), to temporarily keep the government funded and running while they continued negotiations. In January, the government shut down for three days after Congress failed to reach such an agreement.
The news Tuesday that Congress might actually be close to ending the budget battle might have been complicated by remarks by Trump that appeared to be in favor of a shutdown. "If we don't get rid of these loopholes... let's have a shutdown," Trump said Tuesday at a meeting to discuss immigration. "I'd love to see a shutdown if we don't get this stuff taken care of."
"Good news for people who love shutdown news," tweeted BuzzFeed reporter Paul McLeod. "Senate whip John Cornyn jokes an 'age of Aquarius' has broken out after Senate Dem and GOP leaders met. Hopes a deal could be announced soon." And the sentiment did seem appropriate, given how much a sea change Tuesday's announcement was from the months of bitter negotiations.
Currently, Congress has until Thursday to vote on a bill that would keep the government funded. Ahead of Thursday's deadline, leaders were weighing another CR to hold them over until a long-term budget is hammered out. That CR, per Politico, would've raised spending caps and addressed disaster relief, but would table the immigration issue to be handled at a later date separate of budget negotiations.
Congressional leaders, according to The Hill, are now planning to move ahead with a House vote on a one-year defense spending bill with the expectation that it would fail in the Senate. This vote would allow Schumer and McConnell another 24-hour window in which to go back to the legislation to make necessary adjustments — likely stripping away the generous military funding in the House bill to win Democrat support.
Once this two-year budget deal gets approved by both houses, Politico reports, appropriations chairmen can finally hammer out the remaining details of the budget.