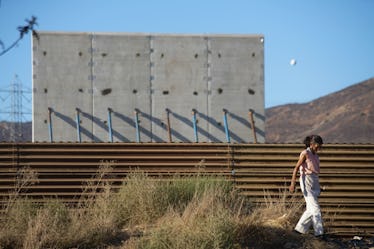 Trump's Border Wall Could Seriously Lead To A Government Shutdown
Sandy Huffaker/Getty Images News/Getty Images
Lawmakers have through Friday, Jan. 19, to pass a spending bill which would prevent a government shutdown, and there are lots of potential bargaining chips flying around. So is the border wall in the spending bill after all? President Donald Trump is certainly gunning for it to be part of negotiations, and it's unclear whether it will end up being included or not.
Without a new funding bill, the government will shutdown on Saturday, Jan. 20. On Tuesday, Jan. 16, the GOP offered up a short-term stopgap measure, formally called a Continuing Resolution (CR), which would fund the government until an official fiscal year budget is approved by both Houses. If approved, The Hill points out, this latest stopgap would be the fourth short-term measure passed in the five-month interim while the official budget awaits approval.
The spending bill needs more than a simple majority to pass Congress. The bill needs 60 votes to pass the Senate, meaning Republicans need 8 Democrats to vote for it (assuming Vice President Pence is on hand to make a tie-breaking vote if needed). And in the House, if enough Republican representatives hold out on a vote, they'll need Democrats to go for it, too.
"There is currently not a policy path to reach 218 votes in the House on funding the government," an unnamed lawmaker said, according to The Hill. "For the first time since 2013, the possibility of a shutdown is real."
Representative Daniel Webster of Florida reportedly put those odds at 50-50.
The border wall appears to be on the table.
The Wall Street Journal reported on Jan. 5 that Trump was seeking $18 billion over ten years to fund expansions to the wall on the Mexican border. Per The Washington Post, Trump is digging in his heels to make the border wall funding part of the spending bill.
In a pair of tweets on Tuesday, Jan. 16., Trump reiterated his opinion of needing a border wall between the U.S. and Mexico. "We must have Security at our VERY DANGEROUS SOUTHERN BORDER, and we must have a great WALL to help protect us, and to help stop the massive inflow of drugs pouring into our country!" he wrote.
Trump called the tense negotiations between party leaders a "dangerous Lottery," writing in his second tweet, "The Democrats want to shut down the Government over Amnesty for all and Border Security. The biggest loser will be our rapidly rebuilding Military, at a time we need it more than ever. We need a merit based system of immigration, and we need it now!"
Despite what the president wants, all eyes are on lawmakers whether a border wall will be among the budget items funded in the end.
There's more at stake in the negotiations.
The Post reports that the most recent spending bill the GOP has rolled out includes two bargaining chips meant to entice Democratic politicians and secure their votes: A long-term extension to fund the Children's Health Insurance Program (CHIP), and a provision to delay certain taxes of the Affordable Care Act (Obamacare).
And the GOP is considering other deal-sweeteners to gain favor. Disaster relief funding is another tack the GOP might use to make the spending bill more attractive to Democrats. After a massive onslaught of hurricanes, floods, and wildfires, multiple regions face an uphill battle to get back on their feet.
But perhaps most discussed is the fate of Dreamers, or young immigrants brought to the U.S. as children, which has become a flashpoint in the government shutdown negotiations. Democrats have been using their demand of protection for immigrants as their line in the sand, and whether they hold that line this week is being closely scrutinized.
There has been talk of a deal in which, in exchange for border wall funding, Dreamers would be granted a path for obtaining permanent legal status, according to AZCentral.com. Under that plan, it would take 12 years to get citizenship, but would be a way forward for the 700,000 recipients of the Deferred Action for Childhood Arrivals (DACA) program. The program, which temporarily protects them from deportation, expires in March at Trump administration's discretion.
The GOP is testing support for its bill on Wednesday, per The Post, and will bring a vote on Thursday. It's unclear whether any of these additional negotiations — including the border wall and Dreamer protections — will end up making the final cut or if the current legislation will even get approved.
If lawmakers fail to reach a deal by Saturday, it will be the first government shutdown since October 2013.