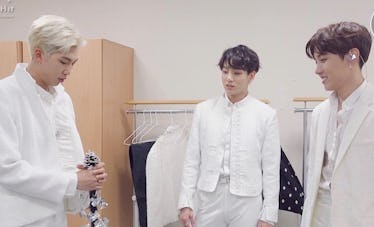 Jungkook Helped RM With His "Dionysus" Dance Moves In The Sweetest Way
YouTube
It's no secret that BTS has some of the best choreography out there. It's so amazing to see the amount of details the guys incorporate in each performance, which never goes unnoticed by the BTS ARMY. But some of BTS' songs require more intricate and fast-paced moves than others, and one that immediately comes to mind is "Dionysus." If you've seen the guys perform the song on TV or at a concert, you know that the "Dionysus" choreo requires RM, Jin, Suga, J-Hope, Jimin, V, and Jungkook to constantly be moving around on stage interacting with all kinds of props. It's a whole production, and if you've ever wondered how BTS manages to slay their "Dionysus" performance each time, it's all thanks to lots and lots of practice. The video of BTS' Jungkook helping RM with his "Dionysus" choreography shows that the BTS members always collaborate in order to nail their performances.
On Friday, July 12, BTS uploaded a new Bangtan Bomb to their YouTube channel called "Practice 'Thyrsos' Performance." In case you don't know what "thyrsos" means, according to TheFreeDictionary, it's "a staff tipped with a pine cone and twined with ivy, carried by Dionysus," and Dionysus is the ancient Greek god of wine. (Obviously, it's also the name of BTS' song.) You know how I said BTS adds so many details and props in their choreography? The "thyrsos" staff is one of them, which RM uses when performing "Dionysus."
In BTS' new YouTube video, while backstage for the group's first music show performance of the track for M Countdown on April 18, RM stood in front of the mirror practicing his dance moves using the staff. Although he looked totally focused, Jungkook decided to cut in and help RM with a particular aspect of the choreo.
Jungkook told RM, "You can squat down like this. No need to pull your stick to the back. It's for you to stamp the ground."
Seeing how Jungkook interpreted the dance, RM called him a "genius," but still questioned whether he could do the move or not. RM said, "Could I stamp the ground? I feel like I'm gonna stamp on myself."
That's when Jungkook told RM to add some swag when he sings the line about the "Crystal cup."
Hearing RM and Jungkook practice, J-Hope adorably changed the "Dionysus" lyrics to "Just get drunk like Namjoonysus," maybe to ease some of RM's worries, since y'know, he has a whole solo choreography moment on top of a dang table in the beginning of the "Dionysus" performance.
Even Jimin tried to help RM by giving him advice about how to hold the staff. Jimin asked, "Aren't you supposed to hold the handle?," but then Jungkook reminded Jimin to be careful with the decorations on the staff since they might fall off.
Tbh, all this talk about squatting down at the right timing and holding the staff in the right position has made me anxious for RM, but he obviously slayed the choreography when BTS finally went on stage to perform.
Check out BTS practicing for their "Dionysus" performance below.
In case you want to see the actual television performance of "Dionysus" on M Countdown, you can watch that below, too.
I guess, practice does make perfect, right? And as ARMYs know, BTS practices a lot, so that's why they always slay their performances!