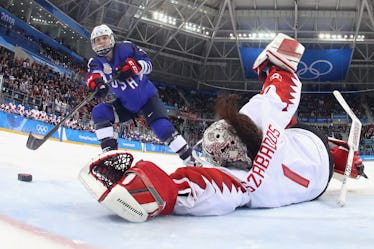 The U.S. Women's Hockey Team Won Gold In The Most Dramatic Way & You Have To See It
Bruce Bennett/Getty Images Sport/Getty Images
On Thursday, Feb. 22, the U.S. women's hockey team won the gold medal in the sport at the PyeongChang Winter Olympics, facing down their rivals, the Canadian team, and it was an incredible moment to behold. This was no "miracle on ice" — this was the culmination of a ton of hard work, practice, and dedication from the athletes on both teams. The final game ended in, literally, the most dramatic fashion possible for hockey, and you have to see the video of Jocelyne Lamoureux-Davidson's Olympics shootout goal.
A shootout happens in hockey when the game is tied after both regulation play and overtime. During regulation play, the U.S. was down 2-1 to Canada, their rival. With 7 minutes left in the gold medal game, Monique Lamoureux-Morando scored to tie the game, sending it into overtime. During overtime, the score remained 2-2, so it came down to the shootout.
As the name indicates, a shootout is ridiculously high-pressure and intense. One by one, a player from each team faces down the opposing team's goalie and tries to score. It's a one-on-one battle until one team scores more than the other. The initial round of the shootout was five shots for each team — and both the U.S. and Canada scored two shots each, per The New York Times.
So then, under Olympic rules, it went to a sudden death round, meaning that whoever scored one more shootout goal than the other side won. That's when Jocelyne Lamoureux-Davidson took her place on center ice to make her shot. You can see her gold-medal-winning goal here:
And this wasn't just any old shootout shot from Lamoureux-Davidson (who, yes, is the sister of Monique Lamoureux-Morando). This was her signature shot, which a former coach named the "Oops, I Did It Again," according to Sports Illustrated. The "Oops I Did It Again" includes faking a right-hand wrist shot, going left, then going back right again — a true fake-out of three quick moves.
You know what? Let's take another look at it in all its glory.
You can watch the full game here on NBC.
That wasn't the final end of the game, however. The Canadians had one more chance to get another shootout goal to tie it up again. And so, Canada's Meghan Agosta took center ice. She began her run and 20-year-old American goalie Maddie Rooney waited as Agosta came at her. Agosta tried shooting the puck through Rooney's legs, which the goalie anticipated and swiftly stopped.
And with that, the U.S. women's hockey team won their first gold medal since the 1998 Winter Games.
The Lamoureux sisters were all smiles talking about their goals after the game, with gold medals proudly around their necks.
This win was bigger than just a gold medal for these women. Over the past year, the U.S. women's hockey team has been fighting for equality. They threatened a boycott of the world championship tournament if USA Hockey did not come to an agreement with them to take some measure to grow the sport for women and girls.
"When I think about hockey and the role it's played in my life personally and how I've committed myself to USA Hockey for so long, it's been a huge, huge component of my life, and I want to be able to change the sport for the better and leave it in a better spot for all those young girls that are coming up and dreaming of playing in this program and playing for Team USA," team captain Meghan Duggan told me in an interview for Elite Daily in December.
Winning the gold was all just part of their plan to get young women and girls interested in the sport so that it will continue to grow, hopefully leading to gender equality within hockey. "It starts a little bit with this gold medal that we need to win. It's going to catch like wildfire in the U.S. and hopefully spark these young imaginative minds to say, 'You know, I want to do what they did,' just as the 1998 Olympics did for us," Hilary Knight told me in December at a Team Visa event.
They made this stand for gender equality in spite of the trolls and critics. "[There are] always people that don't agree with you. That's totally fine. For us, we didn't let it bother us. Deep in our hearts and souls, we knew what we were doing was right, we knew that the way things were going that there needed to be change," Duggan told me.
The U.S. women's hockey team made this win about far more than themselves and the medals now around their necks. They did this for women and girls across the country, and it makes Lamoureux-Davidson's shot that much more incredible.