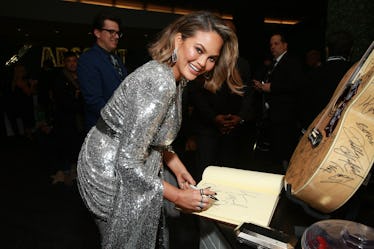 Chrissy Teigen's Friends Threw Her A Surprise Baby Shower & The Video Is So Sweet
Robin Marchant/Getty Images Entertainment/Getty Images
Chrissy Teigen is pregnant with her and John Legend's second child (a baby boy), and I honestly can't get over the fact that Luna is going to be a big sister. Teigen recently revealed in an interview with Ellen DeGeneres that the baby is due in June, so that means she's currently five months pregnant. While visiting New York City this past week, Teigen met up with her close friends and they threw her a baby shower! The video of Chrissy Teigen's surprise baby shower is so heartwarming, and you best believe I've already tagged all of my best friends in it so they come correct when I'm pregnant as hell and need to feel the love.
Teigen used the Snapchat filter that makes it look like you're in a '90s home video and posted it on her Instagram (the shade) with the caption, "Man. Ain't nothin like girlfriends. Love you guys so much. Thank you for loving me back." Maybe her friends helped her brainstorm name ideas for the baby boy? If not, they definitely should start shooting ideas in their group chat because Teigen told Ellen DeGeneres that she and Legend literally have no idea what to name their son. In an appearance on The Ellen DeGeneres Show on Feb. 19, Teigen said she and Legend are having the hardest time coming up with a name for their second child. "Boy names are really tough," she said. "I don't even think he will have a middle name because we can't even think of a first name." They don't talk names at all in the short video on her Instagram, but it had to have been a topic.
In the video from her shower, she said, "These are my best girlfriends on the planet. I have a surprise baby shower!"
I live in NYC and am only a little upset I wasn't invited to share in this joy with Chrissy and her friends. It's fine, though. I was ~busy~ last night anyway! Teigen announced her second pregnancy with the help of Luna on Nov. 21, 2017. She posted an adorable Instagram video where she asked little Luna, "What's in here?" gesturing to her stomach, and Luna immediately responds, "Baby!" And just like that, the world learned there's another Little Legend on the way.
I have watched this video on repeat at least 50 times and I'm still not sick of it.
In her interview with DeGeneres, Teigen confirmed she and Legend are expecting a baby boy in June. She said, "I am having a baby boy in the spring. I will tell you — it's June." June! That's so soon! I don't know if I'm emotionally prepared for this, but I guess it's good I have a couple more months to get ready. She also played a game during her interview called "You Don't Know Jack About John" that consisted of her having to answer questions about her husband.
She hilariously didn't know a lot of the answers.
Homegirl hasn't even seen Selma, the movie that won Legend an Oscar in 2015! Classic Chrissy Teigen. Throughout the game, she was asked about the tiny details of her husband's career, like what the name of his fictional jazz band in La La Land was, which of his albums won him his first Grammy, which Fifty Shades album he made music for, and more. She didn't know any of these three answers and it's hilarious to watch.
She did make sure to add that she doesn't know about a lot of things Legend does at work because he straight-up doesn't tell her. "This is a big fight we always have though," she said. "He doesn't tell me about things he's producing. Like we went to Sundance, and he was like, 'Oh, we're showing my movie.' And I was like, 'Your movie? What are you talking about?'" Honestly, that's kind of funny. I wonder if Teigen's friends told him about the surprise shower they were throwing her, or if they really kept it a surprise from everyone. Either way, Luna and her baby brother clearly have a bunch of amazing aunties to spoil them.