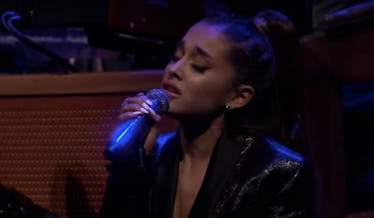 Ariana Grande Cried While Singing "Natural Woman" In A Moving Tribute To Aretha Franklin
Youtube
The world is focusing all of its energy on Ariana Grande's new album, Sweetener — as we should, because it is actual gold. But while promoting her new album on The Tonight Show Starring Jimmy Fallon, the pop princess honored the Queen of Soul, Aretha Franklin, who died on Thursday, Aug. 16, after her battle with pancreatic cancer. Grande and The Roots paid tribute to Aretha Franklin by singing one of Franklin's most popular hits, "Natural Woman," and it was incredibly emotional. The video of Ariana Grande singing Aretha Franklin is so moving in fact, that it even brought tears to the singer's eyes as well as to the eyes of everybody watching.
According to the Associated Press, an anonymous source close to Franklin said that the singer was "seriously ill," on Monday, Aug. 13, although no further details were provided. Just days later, on the morning of Thursday, Aug. 16, The Associated Press took to Twitter to deliver the news of Franklin's death. In a statement released by her family, it was confirmed by Franklin's oncologist that her official cause of death was due to advanced pancreatic cancer. Her family's statement in part read:
In one of the darkest moments of our lives, we are not able to find the appropriate words to express the pain in our heart. We have lost the matriarch and rock of our family. The love she had for her children, grandchildren, nieces, nephews, and cousins knew no bounds ... We have felt your love for Aretha and it brings us comfort to know that her legacy will live on. As we grieve, we ask that you respect our privacy during this difficult time.
Many artists paid their respects in tribute to Aretha Franklin on social media, and Beyoncé even dedicated her Detroit performance to Franklin when the news that she was seriously ill was made public.
And now, Ariana Grande and The Roots are paying tribute, too, by performing a gut-wrenchingly beautiful performance of "Natural Woman."
In the video, you can see just how emotional Ariana Grande is while singing, and can see her fighting back tears. Overall, it's a gorgeous tribute to the woman who created some of the world's most iconic and legendary music:
After her performance, while chatting with Jimmy Fallon on the show, Grande recalls her memories of meeting Aretha Franklin. "I met her a few times," she said, adding, "We sang at the White House and she was so sweet, she was so cute ... It's an honor to have met her."
Grande also tells the audience about the one (and only) time Aretha Franklin called her, asking to listen to a relative's music as a favor. The story is actually adorable and funny, and shows that even Ariana Grande was starstruck by the Queen of Soul:
It's clear that Aretha Franklin was a role model of Grande's, and upon the news of her death, she posted a throwback photo of her alongside Franklin, captioning it with several lines of heart emojis:
It's safe to say that Ariana Grande's rendition of Aretha Franklin's "Natural Woman" with The Roots absolutely did the song justice, and was a wonderful way to pay tribute to the late singer.