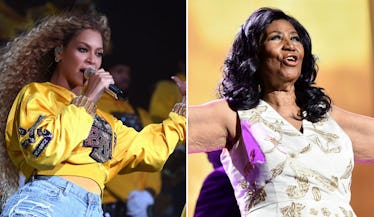 Beyonce Dedicated Her Concert To Aretha Franklin Amid Reports That She's Gravely Ill
Larry Busacca/Getty Images; Theo Wargo/Getty Images
Queen Bey is paying respect to another iconic queen in the music world: Aretha Franklin. After reports that Franklin is "gravely ill," Beyoncé decided to pay her respect to the legendary singer in the sweetest way. While performing in Detroit, Beyoncé dedicated her concert to Aretha Franklin, and her words will make you so, so emotional.
According to the Associated Press, an anonymous source close to the 76-year-old said that the "Respect" singer was "seriously ill," on Monday, August 13, but no further details were provided. Elite Daily reached out to Franklin's team for comment on the report, but did not hear back by the time of publication.
It's beyond heartbreaking to hear of this news, considering Aretha Franklin is known to be the Queen of Soul and one of the biggest influences in the music world. According to the Associated Press, Franklin has "battled undisclosed health issues in recent years" and "canceled planned concerts earlier this year after she was ordered by her doctor to stay off the road and rest up."
Just last year, Franklin announced her retirement plans, noting that she would still perform at "some select things," such as the "gala for Elton John's 25th anniversary of his AIDS foundation" back in November 2017 in New York City.
But now that Franklin's reported failing health has been disclosed, it's time for artists to do something for her, rather than the other way around — which is why Beyoncé gave Franklin the ultimate shoutout by dedicating the entire Detroit concert to her while performing for her and JAY-Z's On the Run II Tour.
The Detroit News took to Twitter to tell readers what Beyoncé said during her speech dedicating the show to Franklin. On Aug. 13, the publication wrote:
Beyonce opens her show with Jay-Z at @fordfield with a tribute. "This show is dedicated to Aretha Franklin," she says. "We love you and thank you." #OnTheRun2
According to another concert-goer, Beyoncé also said, "We're with you," in regards to Aretha Franklin:
Beyoncé wasn't the only one showing love for Aretha Franklin, either. DJ Khaled, who was the opener for the show, played her iconic song, "Respect," during his set as well.
Dozens upon dozens of other musicians, artists, and celebrities have been sending thoughts and prayers to Franklin on social media as well:
Missy Elliott even re-tweeted an eery message that she wrote on Twitter back in January, and then commented that her "prayers are with Aretha Franklin and her family during this difficult time." Her earlier tweet read:
People like Stevie Wonder/Tina Turner/Patti Labelle/Aretha Franklin so many LIVING LEGENDS need to be Celebrated while they are here! We tend to say how great they were when they gone. Give them Flowers & Credits Tributes now
It's heartwarming to see well wishes flood out for the iconic singer during what seems to be a very difficult time, and hope that Franklin finds some support with all of the kind and loving messages.
Let's all take a moment to appreciate that, without artists like Aretha Franklin, the music world just simply wouldn't be what it is today.