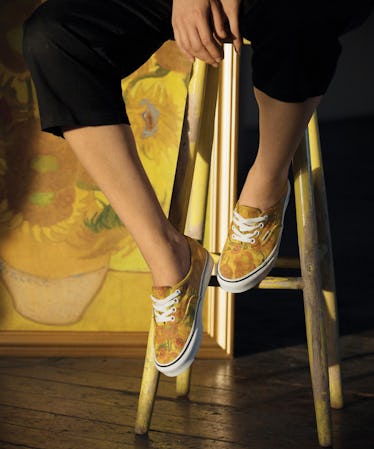 The Vans x Van Gogh Sneaker Collaboration Will Turn Your Feet Into Works Of Art
Vans
I'm in heaven right now because news of a collaboration that combines two of my favorite things just broke and it's better than I could have ever dreamt it would be. The Vans x Van Gogh Museum sneaker collection melds the masterpieces of the Netherlands' most prolific post-impressionist painter with America's most classic skate sneaker seamlessly, resulting in an array of wearable masterpieces that I already never want to take off.
I'm obsessed with sunflowers (I happen to be wearing a vintage sunflower print dress as I type this) so Vincent van Gogh's Sunflower series has always held a special place in my heart, specifically the painting simply entitled Sunflowers. The color palette, the spindly nature of the blooms, its imperfectness—I love everything about it. And it just so happens to be one of the paintings used to inspire pieces within the new Vans collection. Mhm, buying them all pronto.
Featuring an array of clothing and sneakers as well as backpacks and hats, the collection was created in partnership with the Van Gogh Museum Amsterdam. Four of the painter's most iconic works were selected to be reworked into sartorial form, including Almond Blossom, Skull, Sunflowers, and Van Gogh's self portrait. According to Vans' website, the brand worked closely with the Van Gogh Museum team to select pieces that speak "to the creative ethos of Vans' design as well as personal moments from the artist familial history." One style, which centers on Van Gogh's drawing, Old Vineyard with Peasant Woman, even features excerpts and illustrations from letters that Van Gogh sent to his brother, Theo. Personal style at it's coolest?
"By uniting Van Gogh's iconic artworks with iconic Vans styles, our partnership brings Vincent's art 'Off The Wall' and into the world to a new audience outside the museum," Adriaan Dönszelmann, Managing Director of the Van Gogh Museum, explained in a clever statement.
Indeed, the items are so blatantly cool that even if you're not a mega fan's of Van Gogh's you'll still want to cop a piece or two. Along with the sunflower low-tops, I can't wait to shop the self-portrait tee, which is amped up with Vans; classic black and white checkers; the long-sleeve skull shirt, which has a ridiculously rad edge to it; and the cherry blossom backpack, which would brighten up any outfit and would be perfect for festivals. Honestly, every single piece in the lineup is worth investing in.
The Vans x Van Gogh Museum Collection will be available to shop starting August 3 at vans.com/vangogh and in Vans retail stores. And if you're headed to Amsterdam any time soon you'll also be able to shop it at the Van Gogh Museum. The best part? The museum will dedicate a portion of its profits from this project to the preservation of Vincent van Gogh's legacy and collection of art, ensuring that it will remain accessible for future generations. Because everyone deserves to get to experience and be inspired by the work of one of the greatest visionary painters of all time.