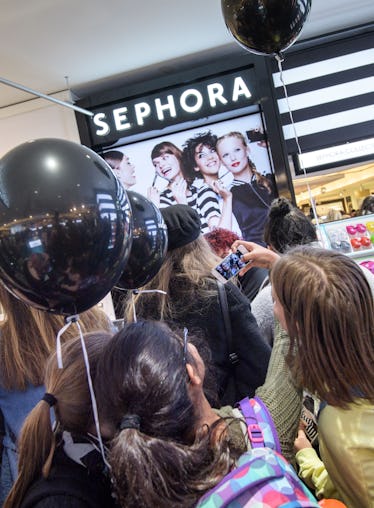 Kiss Your Money Goodbye, Because Sephora's Beauty Insider Program Is Getting A Major Upgrade
Thomas Lohnes/Getty Images Entertainment/Getty Images
When you spend a good chunk of your paycheck on beauty products, there's no better feeling than getting a return on your investment — and I'm not only talking about achieving perfect skin. If you're a Sephora Beauty Insider, then you're likely already aware of the program's amazing perks, like free birthday gifts and custom makeovers, depending on how much money you've spent at the retailer. But if you think the deals are sweet right now, the upgrades to Sephora's Beauty Insider program, launching at the end of August, are about to make being a member even sweeter — especially if you're at the VIB or Rouge level.
While becoming an Insider comes at no cost, VIB and Rouge members must spend at least $350 and $1000, respectively, in a year. Of course, this can seem to be a bit on the pricey side for some, but Sephora explained exclusively to Allure how all those extra purchases are about to pay off big time.
In terms of points, VIB members will now rack up 1.25 reward points to the dollar, while Rouge members will get 1.5 points. As for Rewards Bazaar, i.e. how buyers can redeem all the points you rack up for everything from samples to services, once customers get to at least 750 points, they will have access to a ton more rewards — five times more, to be exact. An even better perk for Rouge members? Once you hit 2,500 points, you can trade that in for a $100 Rouge reward to use on different products. Profiles will also get a new look, Allure reports, which will make knowing everything from your status to your points so much easier.
At the top of the year, Sephora revealed its 2018 Beauty Insider Birthday Gifts, and yes, they are pretty darn good. Along with celebrating another year of life, Insiders can now choose from a box of Bite Beauty products, GlamGlow's GlowStarter Mega Illuminating Moisturizer or the brand's SuperMud Activated Charcoal Treatment, as well as Bumble and bumble.'s Hairdresser's Invisible Oil Shampoo. But if none of those options work for you, you can also choose to visit your nearest Sephora for a free makeover that will have you looking like the belle of the ball at your next birthday outing.
Currently, anyone enrolled in the Beauty Insider program can get a birthday gift, but with the program upgrade, VIB and Rouge members will have the option to opt out of the gift and get an additional 250 points to put toward their account instead.
So if you're dying to get to VIB or Rouge status — understandably so — the good news is that, if you've got some cash to spare, Sephora always has new products coming in that are so good, you'll be racking in the points in no time.
But if you can't make it to the VIB or Rouge levels just yet, don't despair, because Allure also shared that more benefits will be available for Insiders across the board starting next year. So get ready for all the services, classes, and rewards coming your way!