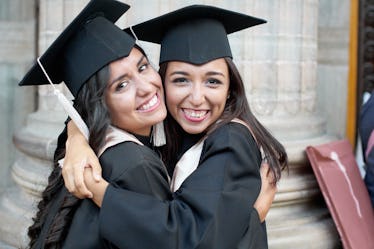 The #NoRegrets List For College Seniors, From A Former Student Who Completed It
Your last semester in college is bound to be an exciting one. You're almost done with classes, and you're feeling extremely proud of everything you've accomplished over the past few years. As you wrap up your time in school, you'll want to reference the ultimate bucket list for college seniors to make sure you cross everything off your list before you leave.
I went to Berklee College of Music in Boston, so I didn't have the typical college experience. I had an urban campus with tons of buildings spread out over a few city blocks, and all of my classes — including the liberal arts ones — were music-related.
Even though my school wasn't what you'd consider a typical college campus, I was determined to make the most of it — especially during my senior year. My last semester was a whirlwind of preparing for life post-grad, but I also made it a point to enjoy all that senior year of college has to offer. I reconnected with my professors, visited my favorite spots on campus, and took a ton of photos.
If you're headed into your last semester of college this spring, you should definitely use this bucket list as your guide for everything you need to do before you head out into the "real world."