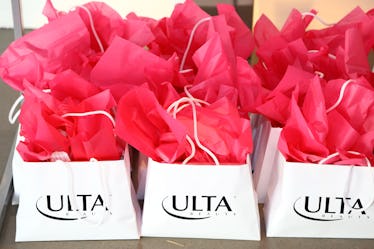 The Ulta Black Friday 2017 Sales Are Here & We're All Getting A Free Bag Of Makeup
Astrid Stawiarz/Getty Images Entertainment/Getty Images
I'm a bit overwhelmed by the release of all of the Black Friday sales. Not in a bad way — more of like an "Allanah, you're going to have to reel your budget in," because the Ulta Black Friday 2017 sales have finally been revealed. Let's just establish that this is an open space, and I hope you're here for me while I cry tears of joy.
While updating my spreadsheet of Black Friday sales, I got giddy when I discovered that Ulta released its deals. Just a few days ago, I was waxing rhapsodic over how lit Ulta's Cyber Funday sale was. Before you exit this article and judge my "expertise" on beauty (because I used the term lit), my 16-year-old brother has the week of Thanksgiving off, and I'm starting to unfortunately pick up his terminology. Gen Z is the future, after all.
I don't know if your family is anything like mine, but I basically eat all day on Thanksgiving because I'm testing stuff for my mom (that's what kind of selfless, benevolent daughter I am). But when Ulta's Beauty Busters deals begin online at 6 p.m. ET on Nov. 23, I personally won't be at the kitchen table.
If you prefer to shop in-store, so you can feel, swatch, smell, and spritz to your heart's content, you're also in luck. Most Ulta stores will open doors at 6 p.m. on Thursday, but check with your local Ulta because opening times vary. Doors will close at 2 a.m. on Black Friday (we all need our beauty sleep), and re-open again from 6 a.m. to 10 p.m. Since Ulta's official Black Friday sales announcement is four pages long and you might have a short attention span like me, I did you a solid and summarized the most exciting points.
First, behold the free beauty gift bag for online shoppers. If you spend more than $50 online, you snag a complimentary nine-piece swag bag packed with Ulta Beauty products, so that's a no-brainer. Additionally, the top brand-wide discounts offered include: 40 percent off The Body Shop, 40 percent off Bare Minerals gift sets, 50 percent off Hot Tools, 30 percent off Soap and Glory, and buy one get one free Not Your Mother's. Those don't even include the seriously fire standalone deals, so check out my top picks below.
The Palette For Night Owls
Do you ever go out, witness another woman rocking a killer smoky eye, and question if you're doing this adulting thing right? My 2018 goal is to perfect a smoky eye for myself. This palette is ideal for beginning to intermediate shadow lovers, but also for that friend who you swear is a professional makeup artist in her off hours. Buy this palette for her, then make her practice on you. 'Tis the season.
24 Lippies Till Christmas Advent Calendar
Every year, I promise myself I'm going to buy an advent calendar — they just look so cute. NYX's Lippie advent calendar is practically a makeup lover's dream, packing trendy lip colors galore in a package so pretty you don't need wrapping paper. Black Friday sees it go from $65 to $30, so done and done.
You Get An OPI Color, You Get An OPI Color!
Everyone obsessed with nail polish knows the habit can get expensive real fast. But $5 a nail color? OPI, what did I do to deserve this?
Two-fer Shampoo And Conditioner
On Black Friday, shoppers can score silky, smooth strands via OGX's luxe shampoo and conditioner, which are priced at two for $10. Stock up now, or forever hold your dirty hair.
A Very Hadid Holiday Palette
If you missed out on the launch of Gigi Hadid's exclusive collaboration with Maybelline, now is your chance! The allover-face Jetsetter Palette is the crown jewel of Hadid's collection, and at 30 percent off, it's kinda criminal not to scoop it up now.
Lit From Within Skin
Every time I watch a beauty guru of color apply Becca Cosmetics, their skin looks absolutely to-die-for. What better way to try out the brand than purchasing this portable primer/highlighter kit on Black Friday? The shimmering duo is perfect for anyone looking to get lit over the holidays.
The Cult Favorite Mascara
With more than 7,200 reviews and an almost flawless five-star rating, this mascara lives up to its cheeky name. Brimming with conditioning collagen, the formula beefs up your lashes to extension-esque levels. The Black Friday deal includes minis of the OG and waterproof varieties, plus a makeup remover for $14, a $34 value.