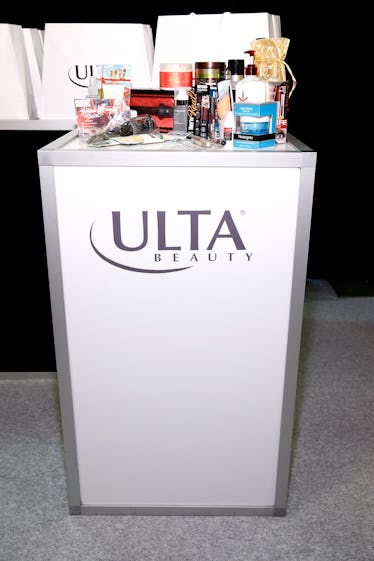 Ulta's Biggest Sale Of The Year Starts Today, So You Should Probably Cancel Your Plans
Brian Ach/Getty Images Entertainment/Getty Images
Although I'm obsessed with fashion and beauty, I often miss out on Black Friday sales because I'm gearing up for my Thanksgiving food coma round deux. Lucky for me, and everyone else in existence, Ulta's Cyber Fundays 2017 sales start this weekend, so you can start scoring amazing deals before you've ingested any tryptophan.
The massive sale runs on Ulta's website for two days only: Nov. 17-18. Customers are gifted with unbelievable deals on over 150 brands such as Urban Decay, Tarte, It Cosmetics, Bare Minerals, Mario Badescu, Benefit, Real Techniques, NYX, and Sexy Hair. Shoppers are eligible for free shipping on all orders over $35 (which, let's call a spade a spade, is child's play), and $10 off any online purchase of $60 or more with the code CYBERFUN17.
If that wasn't enough, if you make any $60 purchase today or tomorrow, you'll receive a free 19 piece beauty bag. Instead of the brand giving their customers all the same products, you can choose from three bags: Strobe Light, Moon Light, or Candle Light. Not only are you getting beauty swag worth nearly $90, but also a glitzy makeup bag that's perfect for lugging your haul around this holiday season.
Although some people might think this ruins the excitement of shopping Thanksgiving week, I think it does quite the opposite. Not everyone can partake in Black Friday/Cyber Monday. Some people might be knee-deep in family time, tree hunting, or again, a long turkey-induced snooze. If you're a super shopper, you can also utilize this sale as a way to budget yourself for holiday gifts.
Below are some of my favorite deals going on right now. If Cyber Fundays are a precursor for Black Friday, the whole next week is going to be #lit.
Facial Spray To Ward Off Dry Skin & Haters
I've personally had this aloe-infused mist on my wishlist for months. In addition to this soothing spray, Ulta is upping the ante with 20 percent off anything from Mario Badescu, including the world-famous pimple drying lotion. All in all, you've got a platter of 90 clean skincare products to play with.
Brushes With Greatness From Everyone's Go-To Brand
Real Techniques has been around for what seems to be the beginning of time. Whether you're new to the brand, or looking to restock your basic brush set, check it out because the beloved tool purveyor is 40 percent off.
The Least Painful Way To Be Healthy
Being healthy all the time is hard work; having healthy hair is not. With 30 percent off the entire brand (excluding tools), Sexy Hair is making a strong case for strong, touchable hair all winter long.
The Five Star Body Scrub
I'm strange, but I care about reviews. Rarely do I see a product that has perfect reviews and a full five star ranking, so you know this scrub has to be major. Packed with fresh bergamot, mandarin, rose, jasmine, peach, and strawberry, it may sound like a perfume, but it's not. Massage it over your bod in the shower and emerge the softest you've been since birth.
And if you're looking to explore other items from Soap & Glory, you can go crazy with 30 percent off (minus minis and sets).
The Hair Brand That Will Make You Pinch Yourself
I'm not going to lie: When I saw Shea Moisture on the site, I almost passed out. Anyone who enjoys hair products knows how easy it is to go through these jars. Whether my hair is relaxed or natural, Shea Moisture always provides maximum moisture. With 40 percent off the entire brand, I'm definitely going to need to keep myself in check.
The Shampoo Even Your Mother Will Want To Borrow
This shampoo has stellar reviews and features honey, which is great for mending split ends and restoring vibrancy. If your hair needs are a bit different, all of Not Your Mother's is 40 percent off, so feel free to stock up for the entire year.
Lipsticks To Beat The Winter Blahs
Since my natural lip color is on the deeper pink scale, dark lipsticks are for sure my weakness. This NYX palette is now 40 percent off, which means I can go hog wild trying new lip paints. But if six shades aren't enough for you, go all out with the NYX Lip Vault.
This Is How Stila Steals Your Soul
Stila Perfect Me, Perfect Hue Eye & Cheek Palette
Ulta
$20
Not only can you snag this eye and cheek palette at 50 percent off, but you can also score a free gift with any $40 Stila purchase. If this color combo doesn't suit your fancy, check out the other four assortments.
Eyeliner For The Makeup Challenged
I've always envied women with perfectly winged eyeliner. At 50 percent off, it would behoove me, and any else with eyeliner hang-ups, to nab this Eyeko best-seller and get to werk.