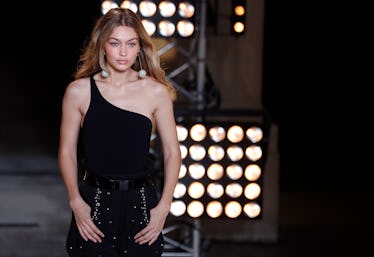 Gigi Hadid Is Launching A Drugstore Makeup Collection So We Can All Look Insta-Famous For Less
PATRICK KOVARIK/AFP/Getty Images
There comes a time in every relationship when you must move forward, whether that means making it official, meeting the parents, or breaking up for good. In the case of Gigi Hadid, the 22-year-old model is beefing up her responsibilities — but not with singer Zayn Malik. On Oct. 8, the model announced a full-on Gigi Hadid makeup collection with Maybelline, the beauty brand she has fronted since 2015.
The move seems totally copacetic, given both Hadid's resounding popularity (to the tune of 36 million Instagram followers) and the recent influx on celebrity beauty lines. First came Kylie Jenner's Kylie Cosmetics, which was eventually followed by Kim Kardashians KKW Beauty. Just last month, Rihanna disrupted the entire makeup industry with the launch of Fenty Beauty. It's becoming almost expected for celebs to translate their star power/vibes into merch their fans can obsess over, wear, and then wash off.
When I heard the news about the elder Hadid sister, I was originally non-plussed. My faulty assumption was that Gigi probably didn't have much involvement with her line, and that the products likely resembled everything else at the drugstore. Well, based on what I've seen so far, I'm here to say I'm sorry. I owe Hadid a big, bashful apology.
In true Insta-model fashion, Hadid uploaded an Instagram photo to tease her upcoming collection with the cosmetics juggernaut.
The artsy pic shows Hadid cupping her hands over her mouth next to a resplendent display of makeup, decked out in a furry green coat and tinted sunnies. With cartoon butterflies flying around Hadid's head, the vibe is half '70s glamour-puss, half Kate Hudson in Almost Famous.
Needless to say, it's more involved than your typical "here I am wearing my own makeup" shot, and Hadid's caption reveals how just how long it's been in the works. "A year in the making.. #GIGIxMAYBELLINE COMING SOON. @maybelline 🦋💄✨," wrote the star. Clearly, Hadid's creative debut for Maybelline is no slapstick effort to jump on the bandwagon.
While that's the only information Hadid has released, her partner Maybelline followed up their muse's move with a combination of Instagram and Twitter posts.
In this gram, viewers are gifted a glimpse of Gigi slaying in sumptuous red lipstick, plus a large swatch of the aforementioned lip color with the initals GH carved into it. One can infer that red lipstick will be included in the line, and that Hadid's initials will be prominently featured. Pretty clever, given that monograms make anything appear fancy. Slap some initials on a jean jacket, a notebook, or a Cuyana tote bag, and suddenly the item is worth at least $20 more. In the case of monogram-etched makeup, adding a moniker onto product or packaging makes it feel special, timeless, and luxe AF.
In the second gram, a close-up on Gigi sporting tawny neutral eye shadow, black liner, and red lips is shown. She is looking down, ostensibly lost in deep thought but probably just jonesing to show off that smoky eye. The closing shot boasts a coral-colored powder, again with GH emblazoned into the formula.
In the third post, we see the picture Hadid shared of herself in all her Penny Lane glory, plus a neutral-rose swatch inscribed with GH. Looks like Gigi Hadid x Maybelline goes all-in on the model's initials, which is cool if you happened to be named Gabrielle Henderson or Gloria Horsebait yourself. At press time, Hadid's IG plug has received nearly 1.5 million likes, demonstrating that fans are hungry for the Gigi Hadid x Maybelline mash-up.
On Oct. 12, Maybelline tweeted a sneak peek of the Gigi X Maybelline Jetsetter Palette. It's packaged in millennial pink and features Hadid's name in holographic letters, but no word yet on the contents. The thirst is real.
The brand's website reveals a countdown to the launch, which will debut Oct. 21. Given Maybelline's massive scope, it will likely be available everywhere from Maybelline.com to drugstores across the country.