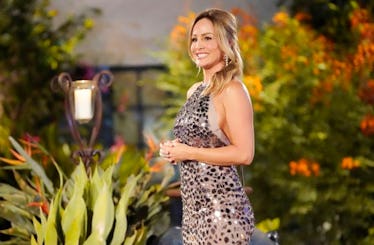 The Tweets About Clare's 'Bachelorette' Premiere Perfectly Capture The Chaos
ABC
It was clear from the start that Clare Crawley's season of The Bachelorette was going to be one of a kind. After getting crowned the series' next lead in March, then having to delay filming, leading to a late premiere in October, the twists and turns have been pretty much constant. Even though it's been a long seven months since she was named the lead, these tweets about Clare's Bachelorette premiere prove Season 16 was well worth the wait.
When Clare was first named the next lead, fans were thrilled to see a woman in her late 30s cast, as opposed to the 20-somethings who have been the stars as of late. Normally, that would be enough to carry viewers into the premiere, but not this year. First, filming was delayed due to the coronavirus pandemic (which resulted in major changes to the show), then there were so many recasting rumors that it was virtually impossible to keep up. Of course, this was all before the "Clare and Dale fall in love and run away together" reports even started...
Theories aside, as Season 16 finally premiered, viewers were thrilled to see Clare once again onscreen and in her element. The Bachelor Nation stalwart is well-known for speaking her mind, not taking any bullsh*it, and looking great doing it. Night 1 made it clear nothing has changed since she was last seen on The Bachelor Winter Games.
First, the show highlighted the precautions the cast and crew went through in regard to the coronavirus pandemic. The cast had to quarantine leading into filming to ensure everyone was safe. Watching the guys entertain themselves in isolation is probably the most relatable thing that will happen the entire season.
In addition to the pandemic, fans were divided on their feelings about how often Clare's age was brought up. Some were thrilled, and others were... less than. As a *gasp* 39-year-old woman, she's the oldest female lead to date.
Then it came time for Clare to meet the guys. While it's always fun to see who she'll be dating, fans felt a little weird this time considering the rumors she runs off with Dale before the show actually ends. Still, that didn't stop viewers from finding their favorites.
Now, while the dating show is always messy, Clare's season takes that concept to a whole other level before the first episode even aired. Clare reportedly only filmed for 12 days before leaving to be with contestant Dale Moss. Then on Aug. 3, a source reportedly told Life & Style that Clare and Dale left the show early in love and engaged. So, when the two met on screen, Twitter officially lost it.
By the end of the night, Clare was left with 24 guys to continue her ~journey~ with. And fans were left with a need to process all that they had just witnessed.
Season 16 of The Bachelorette continues on Tuesday, Oct. 20, at 8 p.m. ET on ABC.