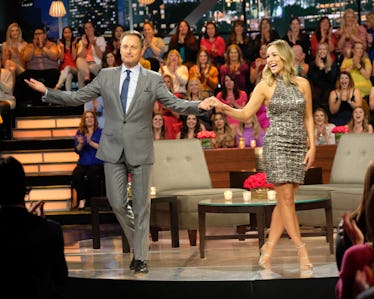 Chris Harrison Revealed Some Big Changes To Clare's Official 'Bachelorette' Cast
John Fleenor/Walt Disney Television/Getty Images
Editor's Note: This post has been updated to reflect Clare Crawley's new Bachelorette cast.
Clare Crawley's Bachelorette season is starting months after it was originally supposed to air, and yet it's already truly one of the most dramatic seasons ever. After a filming delay due to the coronavirus pandemic and a major promotion of contestant Matt James to series lead as the next Bachelor, Clare Crawley's *new* Bachelorette cast has been announced. Following a cast switch-up in July, Chris Harrison hopped onto Facebook Live on Sept. 29 to announce the official Season 16 lineup, which includes even more changes.
ABC originally announced Clare's cast back on March 11, the day after Peter's Bachelor season ended. Because of the way Bachelor Nation casting works, a lot of these guys were likely selected before Clare was chosen as the season's lead, and it showed: Most of the suitors were in their 20s, while Clare is 39. That could have been a major reason why producers continued to look for more guys for the cast, as Chris Harrison revealed only a week after the original cast announcement was made.
Then, on June 12, things really changed. ABC revealed Matt James, aka Tyler Cameron's best bud and roommate, would be the next Bachelor, instead of competing on Clare's season like originally planned.
Following that, fans were all but certain there would be more cast changes to come — and they were right. On the night of July 14, The Bachelorette's Facebook page revealed a list of 42 men who "may be on this season."
Now, with Harrison's Sept. 29 cast introduction video, things are set in stone. The official lineup includes 31 guys, meaning a handful of the contestants from the July Facebook post didn't make it to Episode 1. (Will any of them get added to into the fold in anticipation of Tayshia Adams' reported mid-season takeover? Time will tell...)
Check out the men selected for The Bachelorette Season 16 and start picking your faves now:
AJ, 28
Ben, 29
Bennett, 37
Blake Monar, 30
Blake Moynes, 29
Brandon, 28
Brendan, 30
Chasen, 31
Chris, 27
Dale, 31
Demar, 26
Eazy, 29
Ed, 36
Garin, 34
Ivan, 28
Jason, 31
Jay, 29
Jeremy, 40
Joe, 36
Jordan C., 26
Jordan M., 30
Kenny, 39
Mike, 38
Page, 37
Riley, 30
Robby, 31
Tyler C., 27
Tyler S., 36
Yosef, 29
Zac C., 36
Zach J., 37
The Bachelorette Season 16 premieres Tuesday, Oct. 13, at 8 p.m. ET on ABC.
This article was originally published on