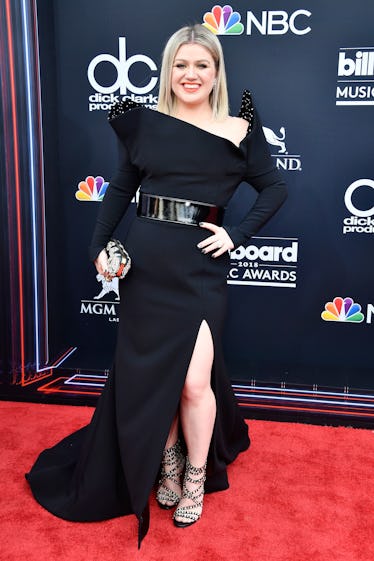 Kelly Clarkson Opened The BBMAs With A Seriously Emotional Tribute To The Texas Shooting
Frazer Harrison/Getty Images Entertainment/Getty Images
She's from the state of Texas, so I knew she would address the recent shooting at Santa Fe High School at some point during the night at the 2018 Billboard Music Awards. But Kelly Clarkson opened the BBMAs with a seriously emotional tribute to the Texas shooting, and OMG it was a such a powerful moment that had her in tears from the very first word! It was a moment in which she asked the audience for change, not silence.
"Before we start tonight's show, there's something I'd like to… this is gonna be so hard," she began, already breaking down. "There's something I'd like to say about the tragedy Friday at Santa Fe High School. I'm a Texas girl, and my home state has had so much heartbreak over this past year. And once again, y'all, we're grieving for more kids that have died for just an absolute no reason at all.
"Tonight they wanted me to say that obviously, we want to pray for all the victims, we want to pray for their families," she continued. "But they also wanted me to do a moment of silence. And I'm so sick of moments of silence. It's not working. Like, Obviously. So why don't we not do a moment of silence? Why don't we do a moment of action? Why don't we do a moment of change? Why don't we change what's happening, because it's horrible? Mamas and daddies should be able to send their kids to school, to church, to movie theaters, to clubs… you should be able to live your life without that kind of fear. So we need to do better. We need to do better because as people we're failing our children, we're failing our communities, we're failing their families. I can't imagine, I have four children… I cannot imagine getting that phone call or that knock on the door. So instead of a moment of silence, I want to respect them and honor them, with tonight y'all, in your community, where you live, your friends. everybody. Let's have a moment of action. Let's have a moment of change."
Then she wiped away a tear and the screen faded to black.
So real, so raw, and just incredibly powerful! Spoken like a true parent.
Following the opening performance from Ariana Grande, who sang "No Tears Left To Cry," Clarkson returned to the stage — she's the event's host, after all — where she jokingly promised not cry anymore. She also gave shout-outs to Taylor Swift, J. Lo, Shawn Mendes, Post Malone, BTS (who got the biggest cheer), Janet Jackson and many other of the night's performers. "That's what I love about Billboard," she said, "It's about all types of music, y'all!"
Then she launched into a seriously cool mash-up performance of everything from Imagine Dragon's "Thunder" to Bruno Mars' "Finesse", proving that this Texas mama can really sing anything.
There was a little Cardi B in there, a little Shawn Mendes, a little DJ Khlaed, and even some Taylor Swift — and the cameras totally caught the pop star singing along to her own lyrics in the front row!
Crushed it!
Meanwhile, in an interview with Billboard prior to the event, Clarkson copped to being a little nervous about taking on hosting duties. "I'm terrified-slash-excited," she said. "I literally went from saying no to even presenting awards, to this. I keep telling people it'll at least be funny to laugh at."
But even though she's got a tiny case of the jitters, don't expect Clarkson to start popping bottles backstage in order to take the edge off.
"I will have it afterward, because my teeth are so porous and I only like red wine," she told the publication. "I don't want to look like a vampire who just fed on someone."
Mission accomplished, girl!