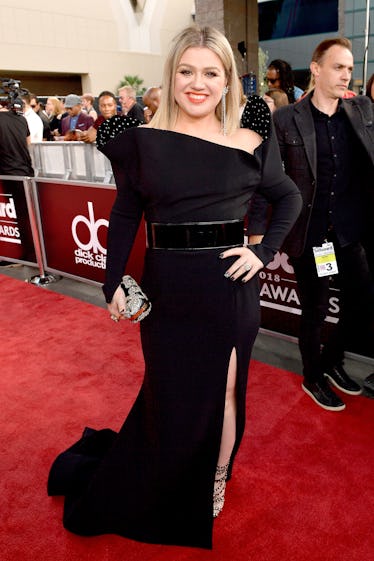 Kelly Clarkson Was Surrounded By Little Galaxies With Her Billboard Music Awards Look & It's Out Of This World
Matt Winkelmeyer/Getty Images Entertainment/Getty Images
Kelly Clarkson is the host of the Billboard Music Awards this year, a first for her. She was chosen partly as an NBC tie-in since this is their first year airing the music special, and this is her first year as a judge on their popular music competition reality show The Voice. But like all her jobs, Kelly is taking this ultra seriously, hosting, performing, and walking the red carpet to promote her new single. And when it came to her red carpet appearance, Kelly Clarkson's 2018 Billboard Music Awards look wasn't shying away from the star she is.
Clarkson, who most people remember for getting her start by winning American Idol, chose to wear Christian Siriano, another artist who got his start by winning a reality show (Project Runway, Season 4).
But she didn't just choose him for the reality series winner connection. Since entering the New York Fashion scene, Siriano has been the most successful winner from the series ever, and that's partly because he recognized a hole in the market and chose to fill it: dressing women for red carpet who aren't considered the "conventional" size, and who, therefore, have trouble getting high-end designers to work with them.
Needless to say, Siriano made her look amazing.
Clarkson looked absolutely incredible in the long, form-fitting, black gown, without going over the top, and the patent leather belt adds a shot of visual interest to the black sheath. Her dress also featured a thigh-high slit, and a fairly long train. The singer also wore super strappy (and very on-trend, I might add) black stilettos with gold studs. In terms of accessories, Clarkson carried a small, bejeweled black clutch with red accents and wore long, silver earrings dangling down to her shoulders.
But what's really striking is the high, architectural collar on her dress, which folds away from her shoulders, a little like the petals of a flower. It's a little hard to see straight on, but on camera, fans can see that the inner fabric lining looks like it is covered in millions of stars, like Kelly is the sun at the center of her own galaxy.
(Also, and not by accident, those stars on the inside of her neckline match the sparkles on her strappy shoes.)
Kelly has been doing more on the fashion front lately, ever since signing on to The Voice and releasing her new album Meaning Of Life, her first "R&B/Soul" collection of songs since she started her career. Talking to People ahead of tonight's show, she credits getting a whole new glam squad to go along with her career moves:
I feel like it's like the mom makeover on the Today show. I walk in and then I walk out and I'm like, 'Damn!' I would love to take any credit for anything that's happening with the glam squad, but my team is insane.
Clarkson has been her usual honest self about her hosting duties. Her biggest worry is screwing up saying someone's name, and her biggest hope is to be allowed to meet Janet Jackson, one of her idols. I mean, as if Clarkson isn't an idol herself at this point!
She is expected to perform twice at the ceremony this evening, and hopefully, she will be trading outfits like candy in between, so fans will get to see her in lots of different designs. She'll be debuting a new single, "Whole Lotta Woman," from her Meaning of Life album, as well as performing a duet along with one of the major stars of the evening, though exactly who has been kept under wraps.