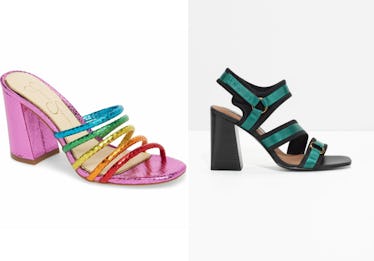 Strappy Heels Are Summer's Biggest Shoe Trend, So Buckle Up
Saks/ & Other Stories
I am not usually one to wear heeled shoes. My faux crocodile booties with a kitten heel are the closest thing I've worn to stilettos in the past six months, maybe more. Summer 2018's strappy sandals trend might be here to change all of that because it's so dang delicate and pretty that I feel a desire to try it out. The best part? Shoes with a barely there elevation factor are included, so I can still try out the de rigueur footwear trend without being afraid of breaking my neck.
Of course, strappy heels are nothing new. They've been around since... well, I don't know. But for a long, long time. But this season's are a bit different. They feature intricate criss-crosses, rainbow color palettes, super fine straps, and more enticing details. You only need to look to the spring 2018 runways of brands including Céline (leave it to them to set a footwear trend), Saint Laurent, Attico, Alexander Wang — all of the coolest brands! — to see how it's done. Wear them on their own with delicate dresses or structured pants, alike, or with '80s-inspired tights or a pair of super fine fishnets. They'll make you feel sexy, light on your feet, and super summery. Peruse some inspiration photos and shop some of the most fun picks below.
Attico
Saint Laurent
Missoni
All That Glitters
A party in a shoe. With their boxed toes, all-over shimmer, and metallic blue heels, these are about as bold as it gets. If you're looking for a statement shoe, I think you've just found it.
Parallel Universe
If you want sexy, this block-heeled shoe is a great alternative to stilettos. There's something about the super-strappy style and its circular ankle strap that set it on fire, and the basic cream color palette renders it matchable with everything.
Caged In
These are so sick! The gridded strap design gives them a slightly mule look, while the silver studs add edgy bursts of metal. The metallic purple shine makes them even punchier! I'd wear these with a cool patterned minidress and silver hoops for an '80s look.
Seeing Spots
Strappy heels, Lucy Ricardo style. These shoes feature a polka dot pattern that gives off major retro vibes and a cool crossover toe strap. Paired with a little black, dress they'd make quite the statement.
Shiny Things
I love a low block heel, and this pair of metallic sandals boasts just that. They look like they'd be super comfortable and wearable (I'd pair them with kick flares!) and would give off just enough shine to make an outfit pop.
Hiker Chic
Tevas 2.0! The super sporty straps on this shoe balance out its high stacked heel, giving it a wonderful paradoxical effect. I'd pair them with structured trousers and a button-up shirt for a cool professional look.
Silver Linings
My 10-year-old self would have been obsessed with these shoes! My 26-year-old self still is. The low, chunky heel, the burst of pink and blue straps, the metallic silver snakeskin texture — it's all just so, so good. These are definitely the perfect summer party shoe to wear to weddings, outdoor bars, and beyond.
Knot the Case
The perfect shoe to go with just about anything. It also features a low stacked heel, making it super comfy to walk in, while its knotted cord straps make an intricate and feminine statement. Get creative with how you tie them around your ankle — weaving them up your calf could look great on days you're wearing a mini dress or skirt!