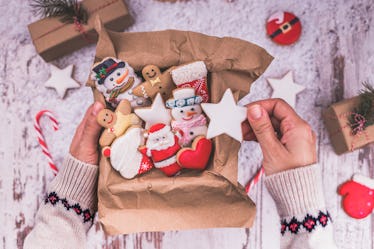 The 6 Most Popular Holiday Desserts For 2018 Will Make Even The Grinch Smile
The holiday season is officially here, which means that it's time to enjoy festive home-cooked meals, and of course, truly drool-worthy sweets. The merriest time of year is the perfect occasion to hit up the kitchen, put on your baker's hat, and experiment with some fun new dessert recipes. Pinterest has rounded up the top holiday desserts for 2018, so you can get to baking ASAP.
From M&M Christmas cookie bars to chocolate raspberry rugelach, Pinterest has put together the most popular dessert recipe trends for you to try out for every holiday potluck and party you attend this year. You can make the recipes by the book, or freestyle a little bit to put your own personal twist on your desserts. Either way, you're bound to end up with something seriously delicious and Insta-worthy.
Whether you're an experienced baker or someone who loves watching The Great British Baking Show from the comfort of your couch, these desserts will certainly help you sleigh the holiday season. You'll be the talk of the party — and every hostess' saving grace — by showing up with any of these yummy desserts. So, put on your favorite Christmas playlist and get to baking!