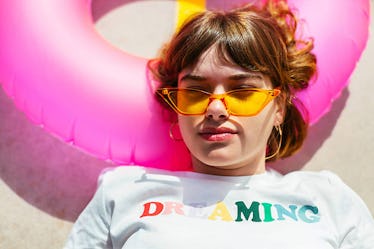 The Things Millennials Hate About The Beach Are Hilariously Salty & Relatable
It may be a bold and forward statement on my part, but I don't think any other generation adores avocado toast, the color pink, or scoring passport stamps quite like ours. Millennials have all the heart eyes for succulents, memes, and the colorful walls on Melrose Avenue in Los Angeles, too. Believe it or not, though, there are a couple of things some of us don't go head over heels for, like the things millennials hate about the beach. Spoiler alert: They're hilariously relatable, cringe-worthy, and will make you say, "Same."
Before I get into the things you may despise about the beach, I want to talk about your typical day with the sand and surf. It may typically go like this: One of your besties wakes up on a weekend morning and sends a text in the group chat like, "Does anyone want to hang with the waves today?" or, "I'm picking everyone up in an hour." Without fail, everybody responds and is ready to go with their coolers and bottles of sunscreen.
Once your BFF arrives at your apartment building, you throw your belongings into the trunk of the car and slip into a seat. Then, you turn on the radio, drive down to the coast, and prepare to deal with these four things that are inevitable, hilarious, and so relatable.