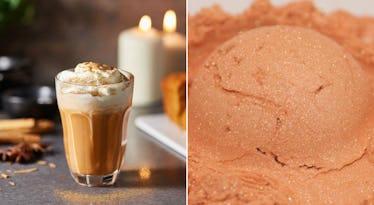 This Pumpkin Spice Latte Highlighter Sold Out Last Year, But Now It's Back To Get You Ready For Fall
Are those seasonal fall (and super sugary) coffee drinks from Starbucks not quite your thing, yet the basic girl inside of you can't resist taking part in the yearly Pumpkin Spice Latte craze? Same. Are you also obsessed with highlighters that give a super luminescent glow? Double same. Well, luckily for the both of us, the Sydney Grace Co. Pumpkin Spice Latte Highlighter is the same glorious shade as the caffeinated drinks... but you know, minus the caffeinated sugar high. Thanks to this ever-so-popular highlighter, I can indulge in PSLs AND get a similar subtle glow every day of the year, instead of having to wait until Starbucks releases the drink. What's more? The loose powder will only set you back $11, which is less than the price of two PSLs from Starbucks.
While Sydney Grace Co.'s Pumpkin Spice Latte Loose Highlighter ($11, sydneygraceco.com) isn't a new release, the brand (formerly known as Feather River Body on Etsy and started by Heather Baker) have the shade available on their website just in time for the impending PSL craziness. So you'll want to get your credit card ready and head to the site ASAP, before these babies are gone… again. Yes, according to Bustle, last year, the loose PSL highlighter sold out pretty quickly, and with Labor Day and the fall season quickly approaching, it's best to hop on this while you can.
As for the highlighter itself, the loose shimmery powder is a finely-milled peach powder that works on any skin type. On fair skin tones, the highlighter works as an illuminating blush and for darker skin tones, it creates a gorgeous, peachy glow on the cheekbones (or wherever applied).
As the California-based beauty brand is known amongst PSL-lovers for their orange-hued luminous highlighter, Sydney Grace Co. also boasts an extensive range of eyeshadows, highlighters, blushes, and glitters to shop from. No, really, I mean extensive. Just in terms of eyeshadow, the brand features loose and pressed palettes, ranging from warm nudes and bronze hues to brightly pigmented reds, yellows, and blues. You can even choose from shimmery, matte, or cream finishes, depending on your desired ~lewk.~ The best part? All of their products, including the larger palettes, ring up under $50, so you can get high-quality steals with an amazing color pay-off for less than what you probably spend on coffee in a month.
Thanks to the loose, fine texture of Sydney Grace Co.'s Pumpkin Spice Latte Loose Highlighter, there is a ton of versatility in how you can choose to wear the product. You can mix a touch of the highlighter in with your foundation for a subtle, all-over glow. You can add a simple swipe anywhere on your body for a illuminating, peach-toned shimmer. Or if you want a striking highlight, you can spray makeup setting spray or rosewater spray onto a fan brush and then dip it into the loose powder and swipe across the tops of your cheekbones for a strong shine that can be seen across a crowded room. Hell, you could even swipe this baby onto your lids and use it as eyeshadow if you really wanted to.
While it's no secret that brisk fall months are basically synonymous with pumpkin-flavored everything, I'm personally just excited that these seasonal favorites are being translated into beauty products to spice up my makeup routine for all of the fall festivities to come. Keep 'em coming!