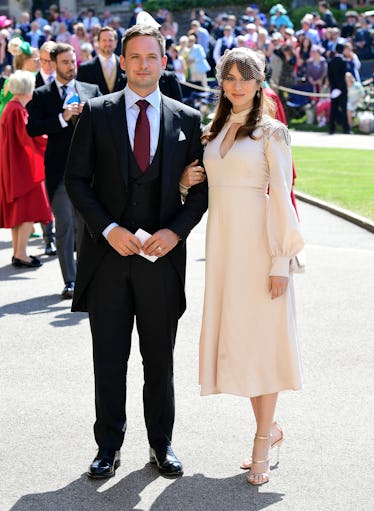 Meghan Markle's 'Suits' Co-Star Posted The Sweetest Thing About Her From The Royal Wedding
WPA Pool/Getty Images Entertainment/Getty Images
Prince Harry and Meghan Markle's wedding will be the last for a while for the Royal Family in the United Kingdom. As befitting the second son, and the last of the "major royals" (he's sixth in line for the throne), the couple is having a decent length of the guest list — 2,640, according to the statement released by Kensington Palace. But they are not all royally stuffed suits and glorious ladies in hats. Thankfully, some American and Canadian actors will be on Meghan's side of the aisle. I'm personally looking forward to the Suits cast at the Royal Wedding.
Kensington Palace confirmed that yes, Meghan may have quit the show, but she's still inviting her former Suits castmates — most of whom were at her TV wedding on the Suits season finale a few weeks ago — to attend her real one in the UK to Prince Harry. (Even on-screen love interest Patrick J. Adams would agree Meghan is trading up.) But she didn't just invite a few leads. Meghan invited practically the whole damn cast and crew — 25 invitations in all.
According to Harper's Bazaar, one of the cast already arrived on Monday, even though the wedding isn't until the end of the week. Gabriel Macht, who plays Harvey Spector, was spotted landing in Heathrow days ahead of time. I suppose if one is going to London for a wedding, you might as well make a week of it.
Macht is only one of many expected to attend. Others on the list include co-star Patrick J. Adams (Michael Ross), who posted the above photo to Instagram of Meghan and her mother arriving yesterday in Berkshire. The caption, "I'm beginning to think she might not actually be out getting milk," is really cute, since supposedly in the world of Suits, she's now his wife.
Also on hand: Sarah Rafferty (Donna Paulsen), Rick Hoffman (Louis Litt), and Gina Torres (Jessica Pearson). Torres is having a banner week. Not only will she be sporting a fabulous hat at a royal wedding, but her spin-off show, Second City, was confirmed this week to be a go for next season. Oh, and Bonnie Hammer, the head of NBC Universal, and Meghan's mentor is also expected.
This being an informal reunion of the Suits cast on the far side of the pond meant that the cast did their best to meet up Friday night, ahead of the Saturday morning festivities. Check out the photo from their dinner.
It looks like they rounded up just about everyone and their spouses... oddly there's one actress and her fiance missing. They must have been busy with last minute wedding details.
As for the arrivals, the cast all showed up dressed to the nines. Macht made sure to match his wife.
Torres' hat choice was a surprise.
Rafferty showed up in style — and giant balloon sleeves.
Rick Hoffman never looked so good, seriously.
And finally, Adams and Troian Bellisario, looking dapper for Meghan's nuptials. One might even argue he looks more dapper here than when he married her on screen last month.
Though Meghan and Adams both left the show at the end of last season, and Torres is being spun off into her own series, Suits will continue next year. The cast is being overhauled, with Katherine Heigl joining to help replace Meghan's character and the ensemble being more of a focus than ever before. Hopefully, Meghan won't be too busy in her new job as Duchess of Sussex to catch at least a few episodes when it returns to the USA Network next season.