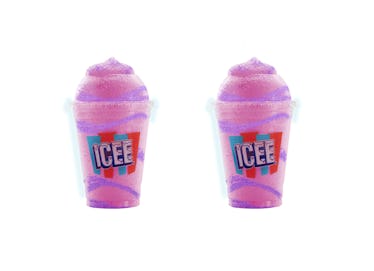 ICEE Just Released A New Sugar Plum Flavor, But It's Only Available At This One Place
ICEE
It might be getting chillier out, but that doesn't mean festive flavors of cold beverages are off limits. If you're tired of the hot, seasonal drinks and over-the-top holiday flavors, I have the perfect sweet treat for you. The Sugar Plum ICEE will add a fun, chilly twist to your holiday season, and you absolutely have to try it.
The ICEE Company has launched the Sugar Plum ICEE, a refreshing, frozen, carbonated beverage sure to spread holiday joy in all the land. The pink and purple flavor is available in more than 1,500 Target stores nationwide until Jan. 31, 2019, so make sure you try this treat before it disappears into the ICEEverse.
Natalie Peterson, Sr. Director of Marketing at the ICEE Company, described the new drink as "delicious" and "festive" in a press release. She wrote:
We are delighted to add this delicious and festive new flavor to our premier ICEE lineup at Target. The Sugar Plum ICEE is full of holiday magic that is sure to spread holiday cheer this season. It's perfect for sipping while shopping for holiday treasures and will undoubtedly be a favorite among adults and kids alike.
'Tis the season for some sweet ICEE goodness. I mean, how could you not want a taste of this:
Some customers who have already tried the Sugar Plum flavor took to Twitter to express their love for the product:
You'll probably remember ICEEs at movie theaters and convenience stores from your childhood. The company has been around since 1967, and has created over 150 flavors like Cola, White Cherry, Boysenberry, and Pink Lemonade, per the company's website. But ICEE has been making moves in 2018, too. In June, the beverage company partnered up with Main Event Entertainment to serve the product in all 41 locations across the United States. In July, Sam's Club customers got to enjoy free samples of its ICEE floats at all locations. Even Knott's Berry Farm, a popular theme park in California, added Mango Chamoy Icees to their menu this summer, helping customers cool down and recharge at the same time.
Carbonated frozen beverages are a staple for every '90s kid, which is why companies that make them have been busy pumping out fun, new products for customers this year. Around Halloween, Burger King released the Frozen Fanta Scary Black Cherry drink, and over the summer, Taco Bell unveiled its Watermelon Freeze. Even McDonald's joined in on the fun by releasing frozen coffee drinks, like the Cold Brew Frappe and Cold Brew Frozen Coffee.
If you're looking to give the gift of ICEE this holiday season, you can find ICEE t-shirts, ICEE slush pouches with flavors like Blue Raspberry, Cherry Frost, and Fruit Punch, ICEE float machines to build your own drink, and even ICEE liquid water enhancers if you want to add some flavor to your daily H2O intake. So get out there and make sure to try this sweet holiday treat before it's taken off the shelves next year. You won't regret it!