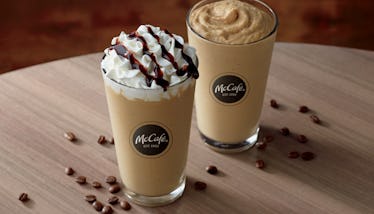 McCafé Released New Cold Brew Frozen Drinks & You're Going To Love Them
McDonalds is synonymous with burgers and fries, but the fast food chain is trying their hand at becoming your next barista. McDonald's is brewing up two new McCafé frosty coffee beverages just in time for summer. Don't put off your tastebuds for too long, because these seasonal drinks are only available for a limited time. I'm fairly confident that McCafé cold brew frozen drinks will be your favorite pick-me-ups this summer, so hurry up and order one (or both).
While you're in line or sitting in the drive-thru waiting to order your Big Mac and medium fry, skip the soda this time around and tack on a Cold Brew Frozen Coffee or Cold Brew Frappe to your order. McDonald's unveiled the two new beverages on Wednesday, June 13, and both are available for purchase at participating McDonald's locations around the country. If you are craving a frosty cold brew from Mickey D's, you better go get it now, because these caffeinated treats are only here for the summer.
The Cold Brew Frozen Coffee packs the punch of a regular cup of joe, but still has that smooth finish that only cold brew can. The drink is blended together with ice and the rest is, well, history. The creamy frozen drink is exactly what you need on the hot and steamy subway or for a midday stroll around town. The other new menu item is the Cold Brew Frappe. This one is the sweeter of the two drinks, and I'm all about it. The Cold Brew Frappe is a coffee-flavored icy drink that is topped with whopped cream and a chocolate drizzle. Consider this your after lunch, pre-dessert pick-me-up.
Best of all, these coffee-based drinks keep your budget in mind. For just $2, you can order a small Frozen Cold Brew Coffee or Cold Brew Frappe. There aren't many places you can get your caffeine fix for just a couple bucks, and I'm lovin' it. It's only been a year since the golden arches restaurant began offering espresso-based beverages at the McCafé. (A free tip from me to you: McDonald's is offering any small espresso drink for just $2 as part of their dollar menu.)
To score a deal on a large McCafé drink, including the two new cold brew beverages, download the McDonald's app. It's available for download in the App Store or Google Play store. McDonald's is offering $1 off large McCafé drinks that are ordered and paid using the app. Just make sure to select the deal before you place your order. This promotion is only valid until Sunday, July 1.
There's one more McCafé drink deal to know about. If you are ordering coffee for five of your coworkers or best pals using the McDonald's app, you can get one McCafé beverage for free through Saturday, June 30.
If you are sitting at work reading this but can't make a break for McDonald's to satisfy your cold brew cravings, don't fret. When there's a will, there's a way. I've got just the solution for you. Let UberEats come to your rescue. That's right, you can order a Frozen Cold Brew Coffee or Cold Crew Frappe straight from McDonald's McDelivery and UberEats will bring it to your door. So if you can't leave your desk, you are going to need to excuse yourself for just a minute while your driver hands off the ice cold coffee to you.
Suffice to say, both cold brew beverages are the perfect combo of caffeine and sweetness to perk you up in the morning and carry you through the an afternoon slump. You can't go wrong with whichever one you choose to sip on this summer.