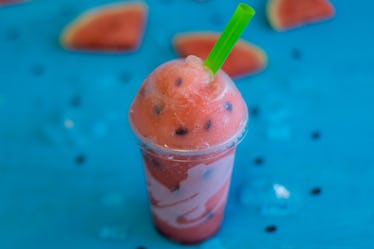 Taco Bell's New Watermelon Freeze Is The Perfect Frozen Drink For Summer
Taco Bell
Nothing screams summertime quite like watermelon does. The pink and juicy fruit always seems to make an appearance at backyard barbecues and pool parties. Now, you can get your watermelon fix without the fuss of those summer events, because Taco Bell has turned your favorite warm weather fruit into a tasty frozen drink. To combat the summer heat, grab yourself a limited edition Watermelon Freeze from Taco Bell to cool down. The new frozen beverage is the perfect way to escape the summer sun, and it even has candy watermelon seeds to boot. So, what is Taco Bell's Watermelon Freeze? Here's what to know before you order.
Taco Bell recently released the limited edition Watermelon Freeze just in time for the start of summer on Thursday, June 21, and there's no shortage of sweet and fruity flavor. The frozen pink beverage is blended with ice for a deliciously refreshing taste of watermelon. The Watermelon Freeze is basically like scarfing down a juicy piece of watermelon, but this time in the form of a cup (and minus all of those pesky black seeds that tend to get in the way).
Taco Bell, being the innovative food institution that it is, still found a way to make the Watermelon Freeze mimic an actual watermelon. You may have noticed a few black specks in the cup. Well, not to worry. The pink-colored drink is made with small candy that look like watermelon seeds, according to Taco Bell. This wouldn't be a true watermelon drink if it didn't have seeds, right? In fact, the black candy seeds might just be what takes Taco Bell's Watermelon Freeze to the next level (for me, anyway).
The Watermelon Freeze is a drink that even your wallet can get down on. Taco Bell is selling a regular sized Watermelon Freeze for $2.39, and a large size is $2.59. That's not the only bargain Taco Bell is offering up for this frozen treat, either. Have you heard about Taco Bell's Happier Hour? No? OK, let me fill you in on a tasty and money-saving tip. From 2–5 p.m. local time, stop by any Taco Bell location for $1 freezes and drinks, including the new Watermelon Freeze. The ice-cold fruit beverage is already a steal at full price, but if you can score one during Taco Bell's Happier Hour, then you are really a delicious deal hunter.
Taco Bell has been dabbling in the frozen drink category all summer long. Recently, the Mexican fast food chain released the Berry Frosé Twisted Freeze. This summer time libation is made with two ounces of Charles & Charles rosé wine, but is only available at Taco Bell Cantina locations in Newport Beach, California, and Chicago, Illinois. So, if you can't make it to one of these two locations to slurp down a Berry Frosé Twisted Freeze this summer, at least you can take solace in the fact that you've got the Watermelon Freeze on your side.
I've seen a lot of fun and colorful drinks so far this summer, but Taco Bell's Watermelon Freeze might just be the most Instagrammable one yet. First of all, the clear plastic cup is the perfect vessel to show off the drink's vibrant pink color. But if I'm being honest, it's the black candy seeds and green straw that really seal the deal for me. There is no denying this splashy (and flavorful) frozen treat was made to be photographed — and, of course, enjoyed — all summer long.
The Watermelon Freeze is only around for a limited time this summer at participating Taco Bell stores, so go ahead and place your order before it is too late.