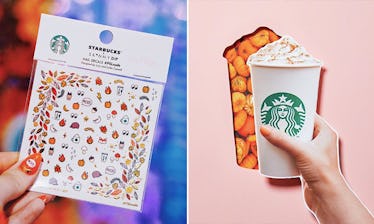 Starbucks Collaborated On A Collection Of PSL Nail Decals That You'll Absolutely Fall For
lucy_connell and Starbucks on Instagram
Alright people, it's confession time. While some people might confess to biting their nails or having an extra glass of wine with their dinner every night, my big confession is that I don't like pumpkin spice lattes. I know, I know, but before you freak out on me, I totally get the hype, I'm just not much of a coffee drinker. However, there are some new Starbucks nail stickers inspired by the seasonal drink, and finally, there's something pumpkin-spice themed that I can't wait to get my hands on.
Starbucks was among the first to market the pumpkin spice-flavored latte in 2011 and has since sparked a worldwide phenomenon for all things fall flavored. Literally everything from shampoo to air fresheners comes in the spicy pumpkin scent. It was only a matter of time before beauty junkies started expressing their love for the seasonal Starbucks drink in their own artistic ways. As if a hair color — a subtle orangey red with ribbons of brown and creamy highlights — wasn't enough, makeup enthusiasts paid homage to the iconic drink by drawing a Starbucks cup on their eyes in place of eyeshadow. Then, nail-art junkies began painting mini portraits of the pumpkin spice latte on their nails, with dollops of whipped cream on top and everything.
Again, I don't love pumpkin spice lattes, but even if I did, I could never have the patience, not to mention the skill to execute a perfectly painted Starbucks cup on my nail. I mean, even if I had the time, there's no way I could even get close to replicating the incredibly complicated Starbucks logo, especially on a nail that measures in at under two centimeters.
So, finally, the coffee giant figured out a way to help beauty junkies and PSL diehards show their love for the seasonal beverage. They teamed up with SkinnyDip London to create a collection of mini fall-themed decals so you don't have to spend the time and energy fumbling with tiny paint brushes ever again.
Each pack of decals comes with two sheets of peel-off stickers perfect for the autumn-obsessed. On one sheet, you'll find stickers that give you all the fall feels, from the orange leafs and pumpkins to the mugs and foam cups filled with Starbucks' seasonal latte. On the other sheet, you'll still find PSL decals, but the black stars, bats, and cute ghosts scream Halloween.
The Starbucks x Skinnydip Nail Decals ($7; skinnydiplondon.com) are available for purchase online now, just in time for all your hayrides and haunted house parties you have planned this fall. The only problem is since the decals are coming from London, there is a $7 shipping charge, but if you think about it, that's not much more than what you'd pay for a venti-sized cup of your beloved pumpkin spice latte. Plus, just think of the Instagrammable shots you'll get with your nail decals and Starbucks cup.
The likes alone will pay for your coffee-themed mani.