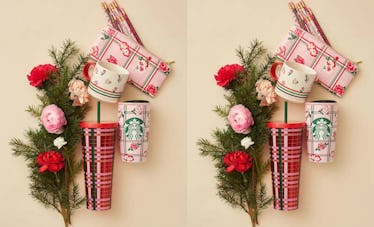 The New Starbucks x Ban.do Winter Collection Makes The Perfect Holiday Gift
I have a confession to make. I, Amanda Fama, am not good at wrapping presents. Half the time, I throw my gifts into a fancy bag to avoid the wrapping process entirely. Thankfully, the Starbucks x ban.do winter 2018 collection features various designs that'll help me bypass the paper. According to Starbucks, the festive new collection has a "gift-wrapped" appearance, which means it's the easiest gift to give this holiday season. Why? Because everything in the collection looks like a pre-wrapped present, which means I won't have to do the wrapping on my own. Easy peasy.
Really, though: The new Starbucks x ban.do collection features new products that are both festive and fashionable. The set, which made its debut on Nov. 27, includes beautifully-decorated mugs, tumblers, accessories, and more. Based off of a photo that Starbucks shared of the collection, the holiday collaboration includes a new mug, a tumbler, a to-go coffee cup, and a case full of festive pencils. (Those might come in handy while you're writing all of those holiday cards, am I right?)
Before I get into detail about the Starbucks x ban.do winter products, take a look at 'em. Not only is the collection perfect for gifting, but it's also pretty dang perfect to #treatyourself with — especially if you love the holidays.
As you can see, the Starbucks x ban.do holiday tumbler features a plaid design with red, pink, and green stripes. The to-go mug, on the other hand, showcases red and green stripes and an array of different flowers. It's the perfect on-the-go accessory for anyone wants to add a touch of spring to their winter look. A new mug in the collection also features a floral design with holiday-inspired stripes, which means you can start your winter mornings off on a festive note. Those of you who have enough mugs can settle for the pencil case, which also showcases flowers amidst a plaid design.
If you're hoping to add the Starbucks x ban.do holiday products to your kitchen or buy them for a friend, you should act fast. According to Starbucks, the collection is limited-edition, which means it won't be on the shelves forever. With that being said, head to your local participating Starbucks store in the United States and purchase something from the collection. If you're wondering how much money to bring, here's the lowdown: The 12-ounce mug is $12.95, the 24-ounce cold cup is $14.95, the 12-ounce tumbler is $19.95, the pencil set is $9.95, and the pencil pounce is $13.95, per Starbucks.
While you're visiting Starbucks in pursuit of the new ban.do holiday collection, take a moment and try the new Juniper Latte. The seasonal beverage — which boasts an "evergreen aroma" — became available at participating U.S. Starbucks stores on Nov. 27. The drink is made with Starbucks signature espresso mixed with steamed milk and juniper syrup. Then, the beverage is topped off with "velvety foam" and sprinkles of pine-citrus sugar. YUM. Like the Starbucks x ban.do collection, the Juniper Latte is only available for a limited time.
Between festive mug designs and new holiday drinks, Starbucks seems like the place to be this holiday season.